Thank you to my family, my friends and fellow musicians ...
"Live the Dream!" … Scott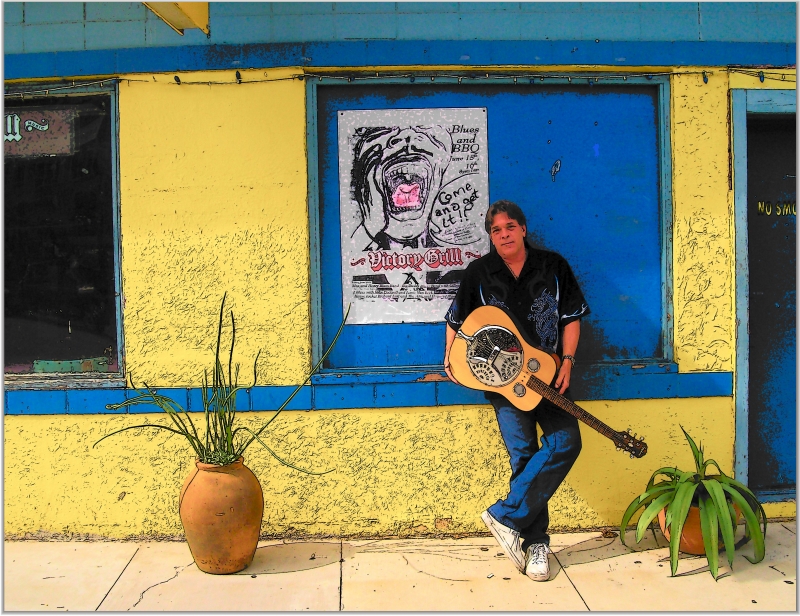 VIDEOS - click here CALENDAR - click here EMAIL - click here CALL - 210.872.1910
---
THE VIDEO VAULT … GREAT VIDEOS FROM RECENT HISTORY...
Check out our Birthday Message to Omar Dykes!



GREAT TIMES AT GREAT PLACES WITH GREAT PEOPLE
GOIN' DOWN (ftr. Adam Johnson) - Oma Gruene's Secret Garten - June 9, 2013

---
SNAPS FROM THE PAST
august was a blast ...
Saturday August 12 Gruene Grove in New Braunfels
Our first time performing at The Gruene Grove was a stormy day to start with that turned into a great show! Whether or not the show was going to go on due to inclimate weather in historic Gruene this particular Sunday was decided practically at the last minute - the show went on, as it must, and it was a hit! Jason Crisp sat in on guest gutiar and Jamie Krueger was on drums. And we're back in September!
| | | |
| --- | --- | --- |
| | | |
| Pre-show stage shot ... A great stage they built | We were worried about the weather but the afternoon went off without a hitch | Everyone sings! But we forgot to tell Jamie! |
Jason, Scott, and Sam ...
Los Fenderos!


DC and Jamie handling the rhythm section

DC Olson • David Sims • Jamie Jrueger
Scott Mayo • Sam Massey • Jason Crisp

Friday August 17 The Big Easy in Houston
Back to Houston to The Big Easy! Easily one of our favorite places in the world to party. We loved seeing Tom and Crew at the 'Easy ... We had dancers all night and the vibe was incredible. It's always a blast having Snit on drums working with DC keeping the high-energy rhythm going and the dance floor packed!

| | | |
| --- | --- | --- |
| | | |
| SGA is back at The Big Easy! | Scott on his Les Paul Tribute 50s | The night broke out into a dance party |
Adam blasting on his Tele!

Scott and Sammy backing up Adam

Adam Johnson • DC Olson • Scott Mayo
Snit Fitzpatrick • Sam Massey

Saturday August 18 Billy's Ice House in New Braunfels
This was a GREAT GIG! Picked up this premier show at Billy's at the last minute and we absolutely tore it up with guest guitarist/vocalist Charlie Sardo and Gino Macias on drums. What a beautiful setup! Smokeghouse appreciated the efforts by Forrest and Adam and all the crew at Billy's for your hospitality. And a special thank you to Kody for helping make this event happen

| | | |
| --- | --- | --- |
| | | |
| Here we are - Billy's Ice House! | Stage is set | Charlie sitting in with the band tearing it up with Scott and Sam |
DC playing his amazingly beautiful Rickenbocker bass

Gino Macias on drums keeping
the beat with DC

Charlie Sardo • DC Olson • Scott Mayo
Sam Massey • Gino Macias

a fantastic july it was ...
Friday July 27 The Truck Yard in Houston
Premier show for us Friday Night - The Truck Yard in Houston. This place is an open air venue filled with serving stations and foodtrucks, a stage for the band, and a carnival ride! Located in Houston's old warehouse district, The Truck Yard is an exciting place to go to and hang out at for a few hours. We were well received and we thank the staff and security crew for all their help and hospitality. The next time you get to Houston you have to drop in. Even better ... schedule a weekend in Houston the next time Smokehouse is at The Yard!
| | | |
| --- | --- | --- |
| | | |
| Smokehouse Guitar Army headlines Friday Night at The Truck Yard in Houston | What a GREAT venue with plenty of music lovers to fill the Yard! | Six food trucks, seven different bars, lots of wide screens ... EVEN A FERRIS WHEEL! |
Jason is our guest guitarist for the show joining Scott and Sam in the Front Line


The rhythm section of DC on bass with Albert sitting in as guest drummer

DC Olson • Jason Crisp • Scott Mayo
Albert Storo • Sam Massey

Saturday July 28 Emmit's Place
It was great to get back to Emmit's! We partied with some old friends and met some new ones. Thank you to everyone who came out to see us and we look forward to our next gig at Emmit's Place!

| | | |
| --- | --- | --- |
| | | |
| Smokehouse Guitar Army back at Emmit's Place | Snit on drums with Smokehouse again | Jason tearing it up with a Jimmy Reed tune |
Scott and Sam doing what they do great!

DC Olson • Snit Fitzpatrick • Scott Mayo
Jason Crisp • Sam Massey

Wise guys!
Friday July 13 Shakespeare Pub in Houston
We returned to Shakes in Houston, site of our first Houston performance ever! San Antonio friends of the Army Granvil and Sylvia Poynter were in H-Town for the weekend, so they came by to see Smokehouse. As a full-fledged member of the Army, Granvil played a set with us and lit the place up. Our buddy and member of Smokehouse The Mighty Orq opened the evening. It was great seeing Orq and Miss Jamie again. The whole evening was a blast, and it was extra special seeing the Poynters there, as well as our good friend Richard Stewart. And as it happens we had some of other Houston fans of Smokehouse that also came by to enjoy some boogie!
Granvil and Sylvia enjoying date night in Houston at Shakespeare Pub

Granvil joins Smokehouse on stage with his unique brand of rockin' retro blues

Adam Johnson • DC Olson • Ken Woodard

Scott Mayo • Sam Massey • Granvil Poynter
Saturday July 14 Buchanan Dam Beach Club at Lake Buchanan
It was the Last Boogie at the Club ... After many years Mary and Sam are closing the Club and taking time to enjoy life. They decided to have one last fling at the club so they threw a private party to enjoy with some sepcial friends and musicians that had become part of the fabric of the Club. So Mary asked The Mighty Orq and Smokehouse Guitar Army to perform the last gig. We had all the musicians up on stage througout the night and it was a stone cold gas! It was Boogie and BBQ! Smokehouse has come to love the area up there - both fans and musicians. And we have had many of the area musicians perform with Smokehouse and it has always been a superb show. We wish Mary and Sam all the best and thank them for doing so much to support live music and musicians!
Thank you both so much!

| | | |
| --- | --- | --- |
| | | |
| The Mighty Orq gets the show going with a memorable solo performance | For the set Johnny Garner joins Smokehouse on stage as he has done so many times in the past | Orq joins the Army on stage with some vintage Orq blues on his Gold Top |
| | | |
| --- | --- | --- |
| | | |
| Jeff and Nancy Haese has been to many of our shows and tonight we finally get Jeff on stage | Courtney and Charly rocked the house with Smokehouse support | Kim Meeks gave a fine sampling of her torchy blues with Sam on drums and Marshall on bass |
| | | |
| --- | --- | --- |
| | | |
| Mom was at home with the kids so Richard brought his Schecter to join in the final show | Marshall sings his ever popular "Rack 'Em Up" with a little help from Courtney | Scott and Sammy laying down some boogie blues at the Dam Beach Club as they have for years |
| | | |
| --- | --- | --- |
| | | |
| Sam and Mary were full of smiles all night and here they pose with the Last Boogie Cake! | Scott presents Mary the commemorative poster signed by everyone at the show | Mary thanks all in attendance for making this show so special for her |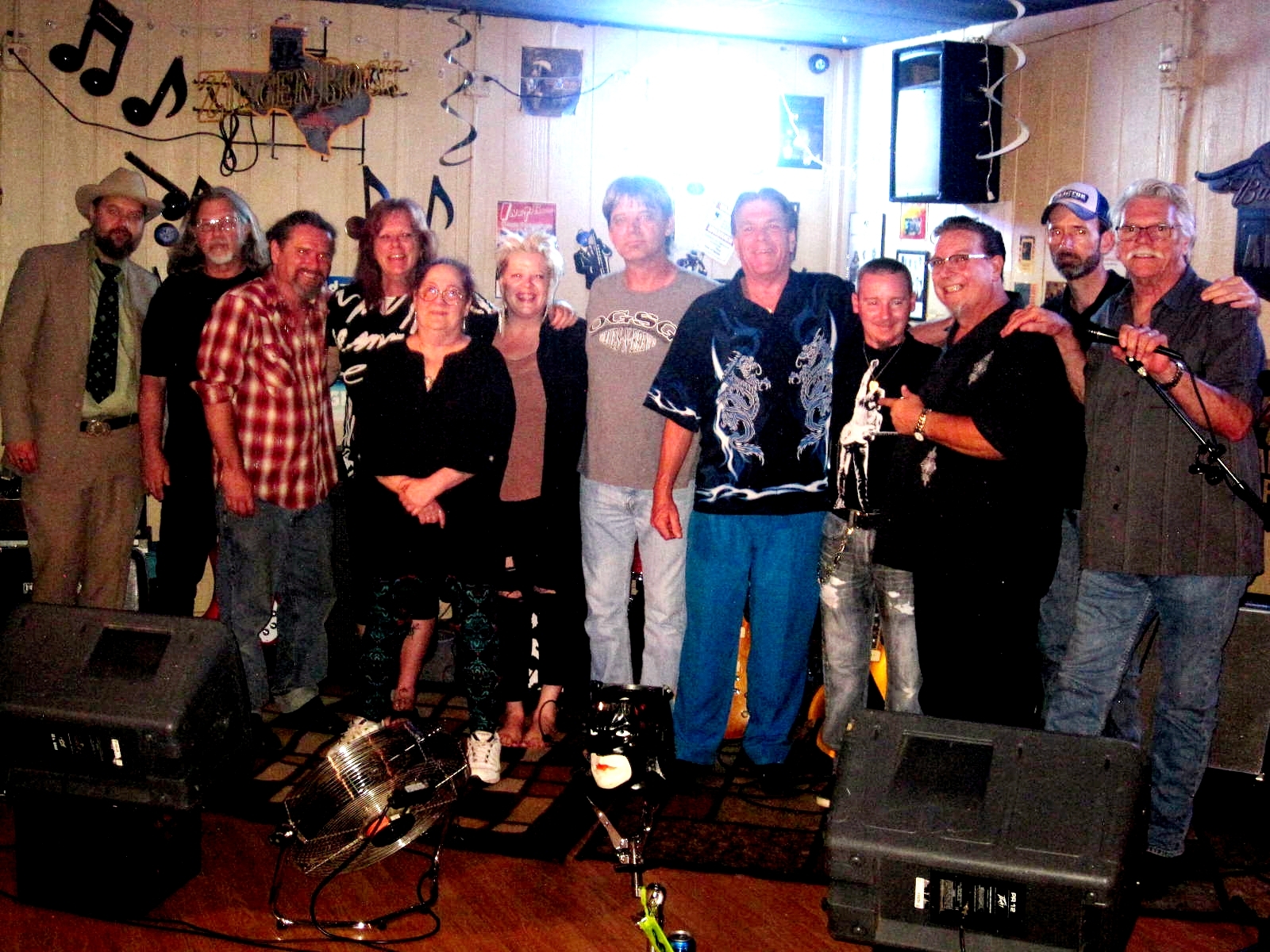 MAD DOGS AND SMOKEHOUSE
Orq • DC • Charly • Kim • Mary • Courtney • Marshall • Scott • Johnny • Sammy • Richard • Jeff
VIDEOS - click here CALENDAR - click here EMAIL - click here CALL - 210.872.1910
San Antonio Blues Society

2017 Robert Johnson SA Sessions!

Johnny Nicholas and Hell Bent

with

Arthur King and the Alamo Allstars

Stage Crew:

Smokehouse Guitar Army
S A M M Y ' S B I R T H D A Y ! ! !
Thank you to our Army of the Lake fans for coming out
and making this a real special night! Sept 2017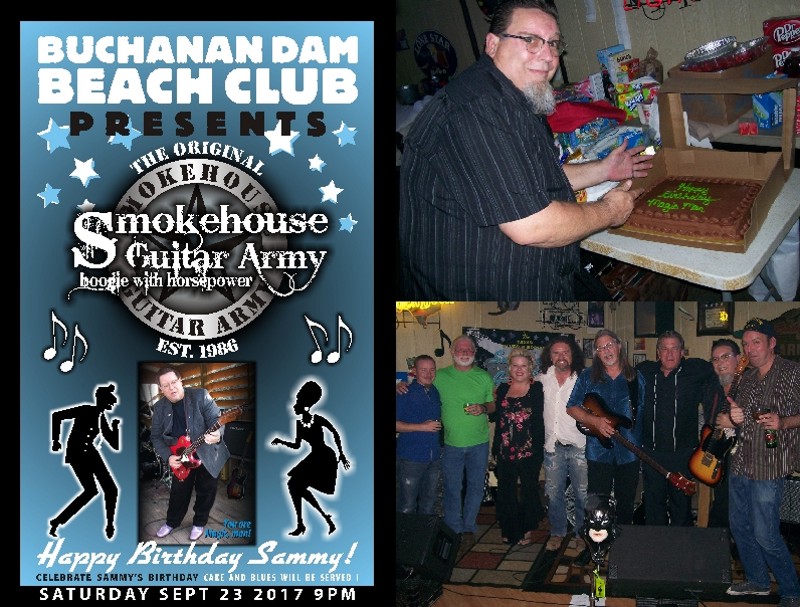 A GREAT TIME IN HOUSTON AUGUST 2017!

CELEBRATED TOM'S BIRTHDAY AT HIS HOME - THE BIG EASY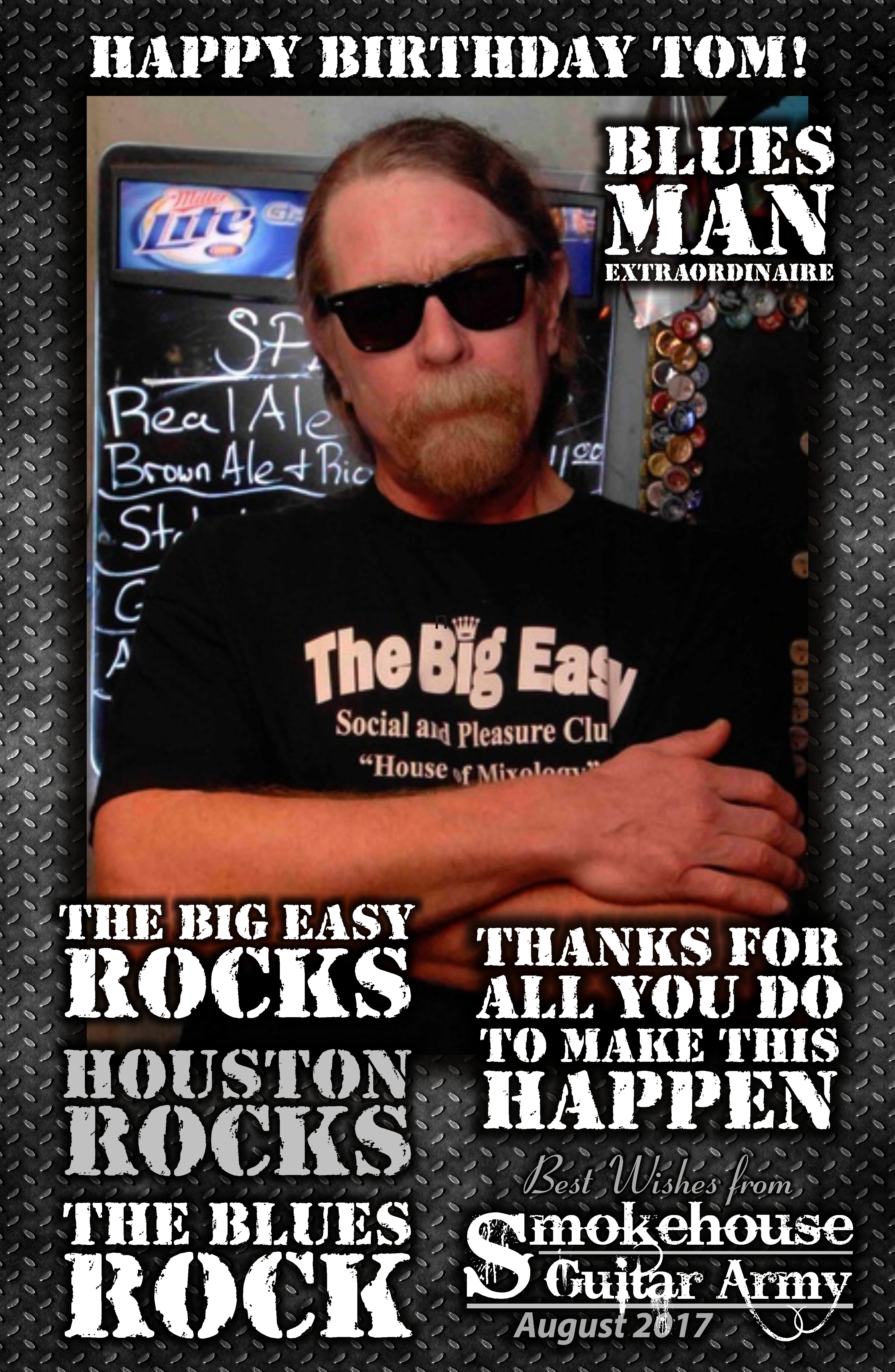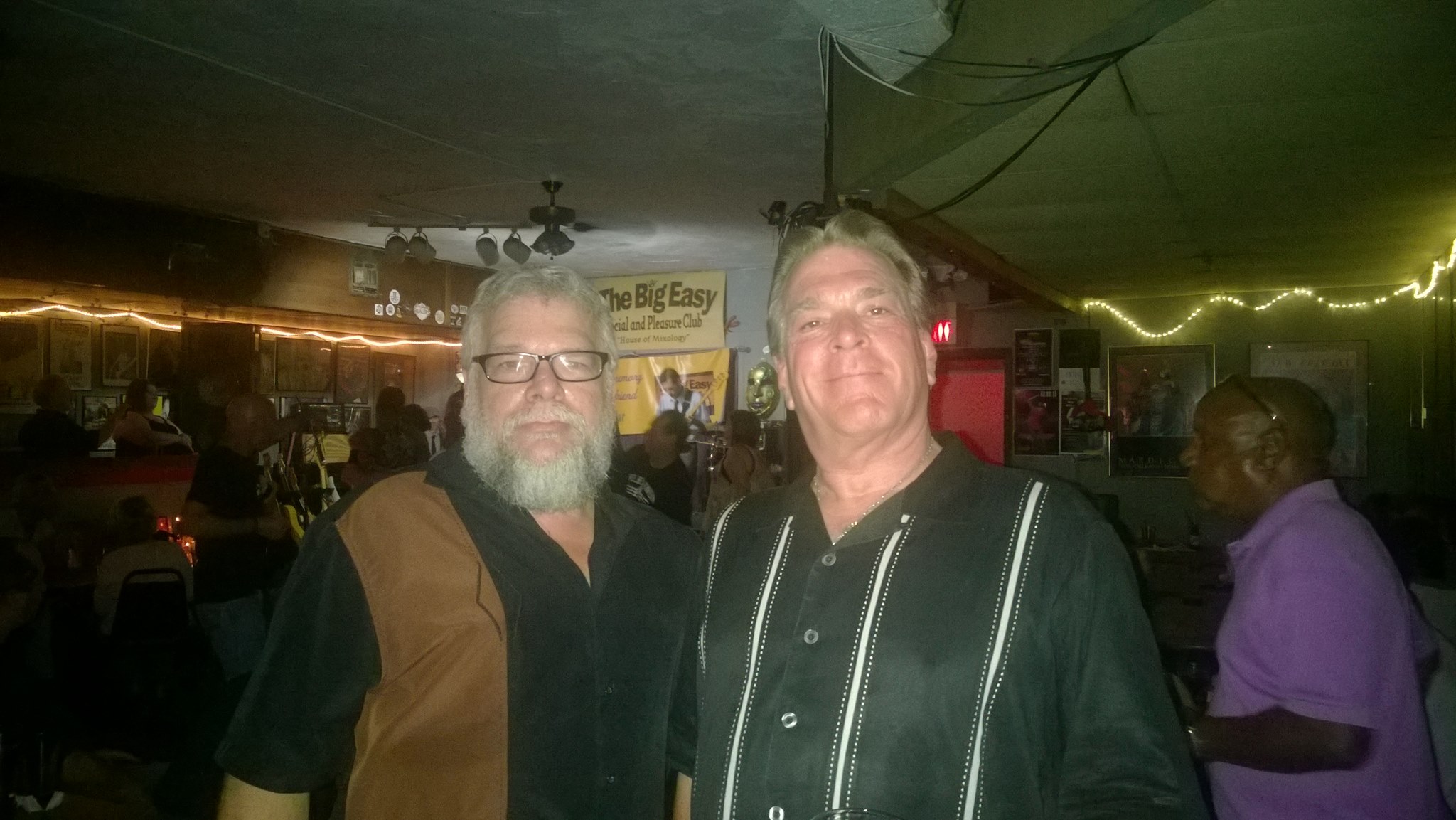 Victor DiValentino and Scott Mayo at The Big Easy in Houston
photo taken by our friend Richard Stewart
August 19, 2917
END OF JUNE ... BACK IN FROM HOUSTON! WHAT A BLAST!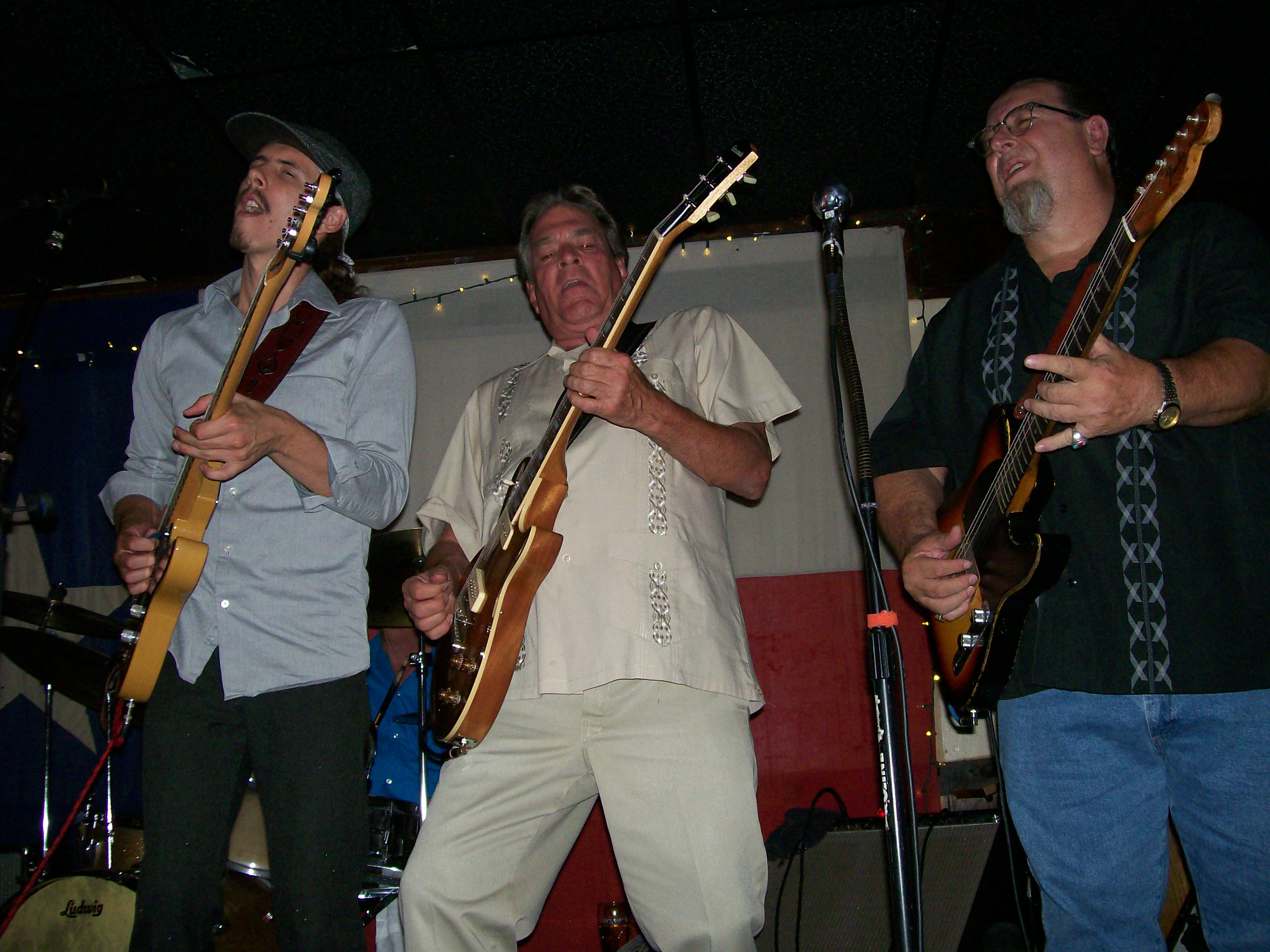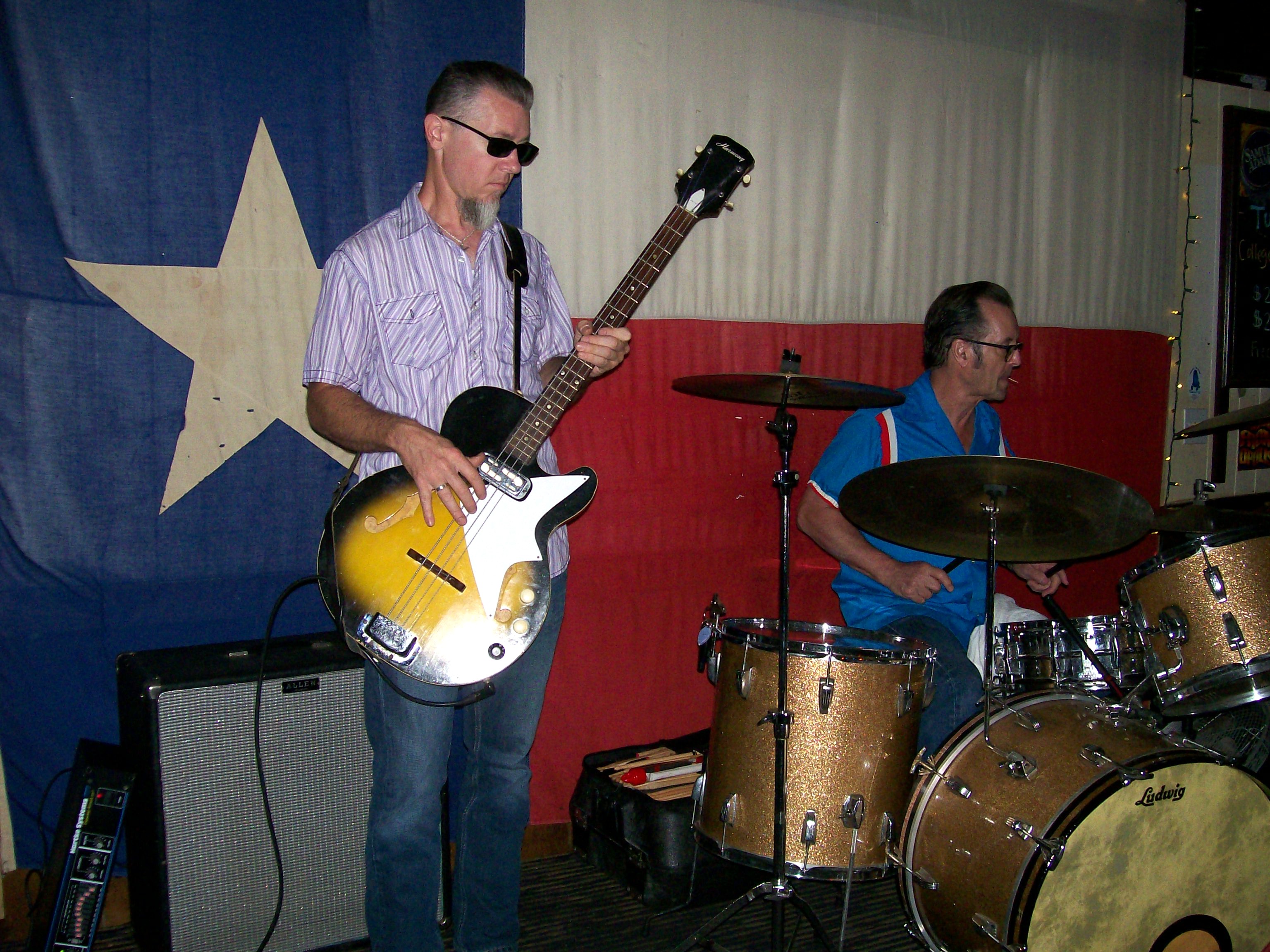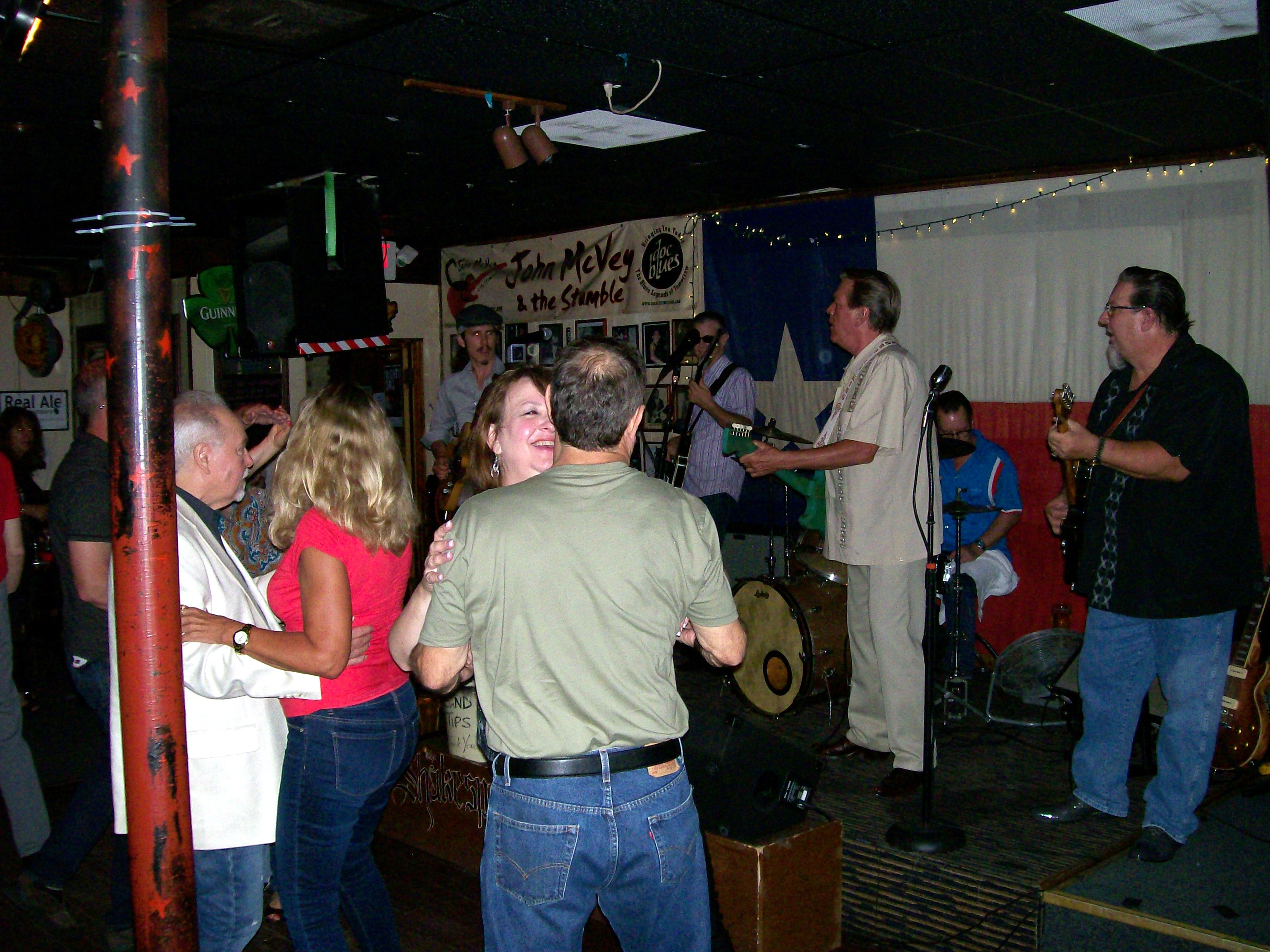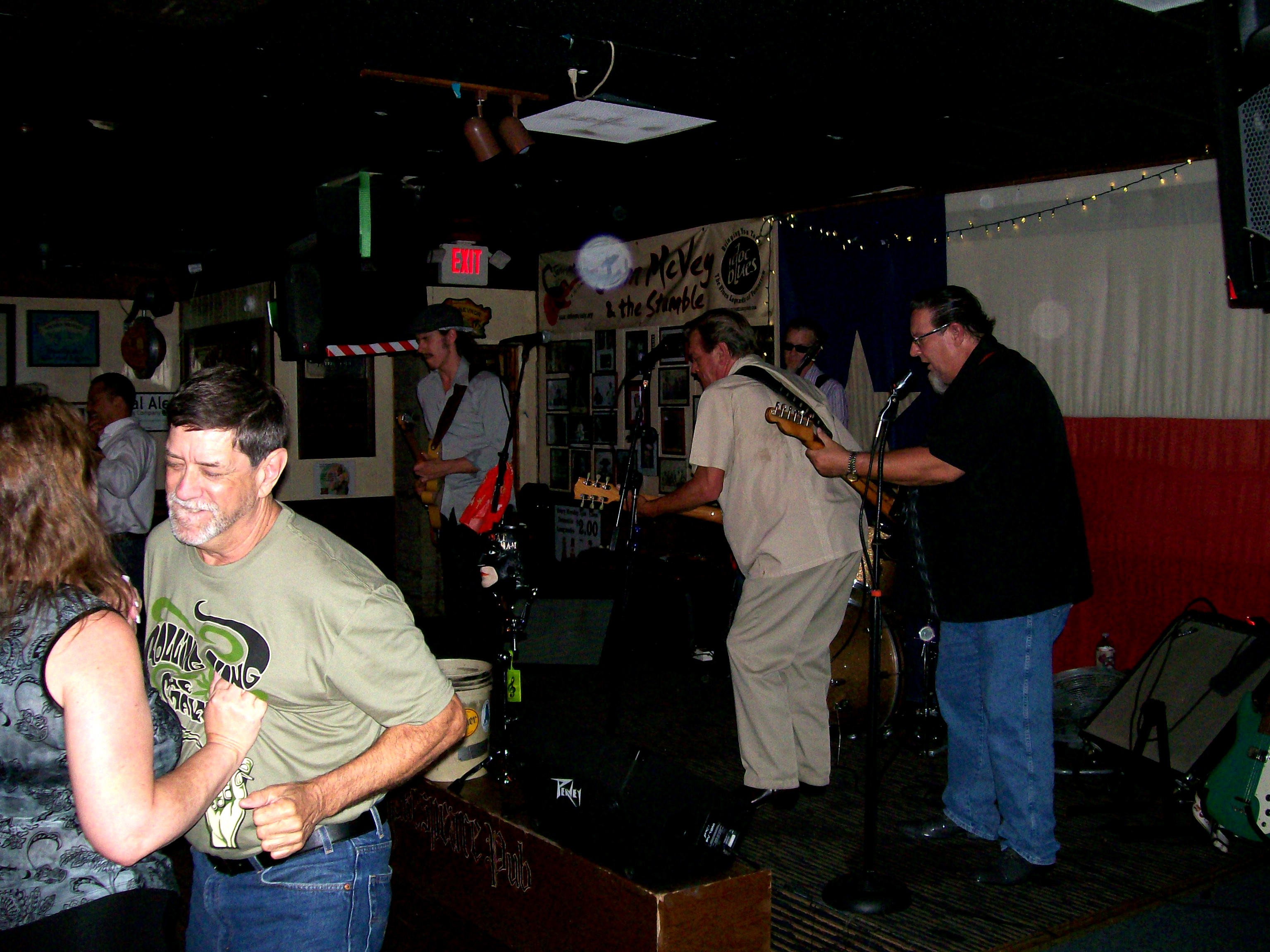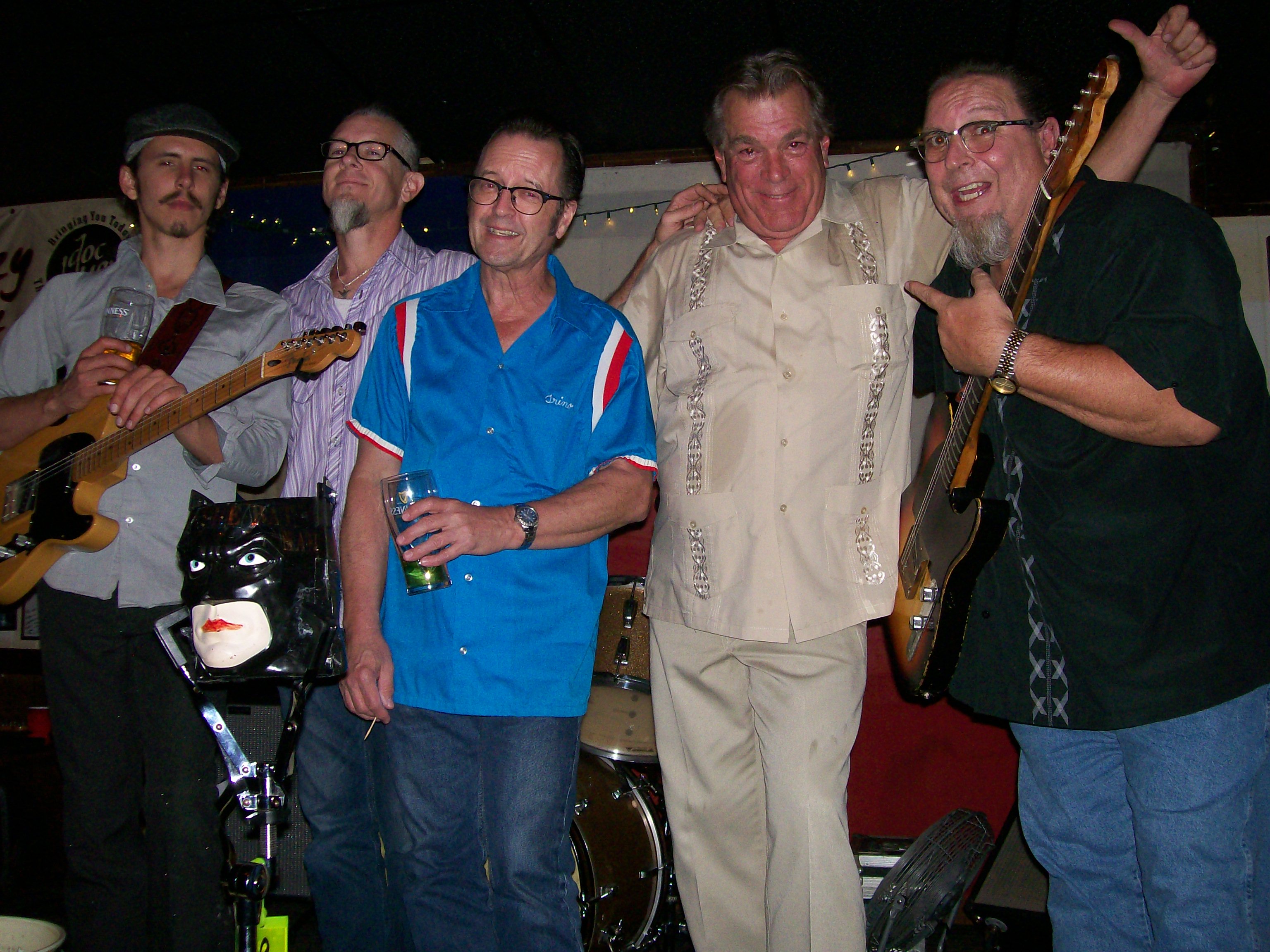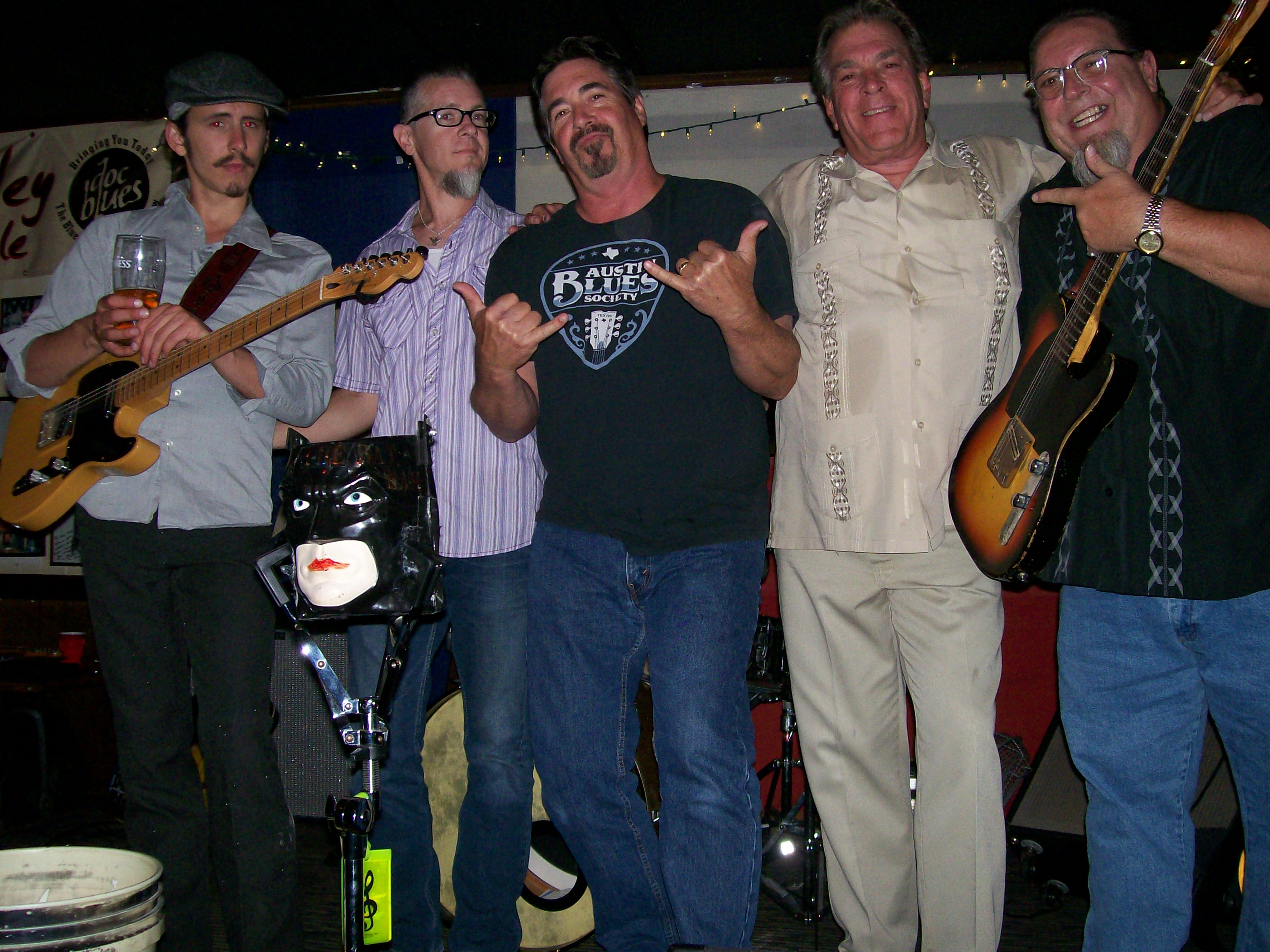 GREAT HAVING BOYD BLUESTEIN IN THE CROWD - TO THE END!
THANK YOU TO JASON AND CREW AT THE PUB
--------------------------------------
APRIL HAD SMOKEHOUSE BOOGYIN' IN
We had a BLAST playing at the Big Easy in Houston. Long time All-Star of Smokehouse Brad McCool reminds us of the special bond between guitar players and their equipment. Brad has been marketing his new amp safety seat minivan accessory for guitar players and their amps. Eveyone else in the cargo bay!


And, while leaving Houston on the return trip to San Antonio, we caught the blues show on KPFT 90.1FM hosted by Nuri Nuri. Smokehouse donated to help fund Nuri's show on Sundays. We call on all Houston area musicians, especially member bands of HBS, to help keep KPFT going.
2017 Fiesta BluesHeritage Series!

Come join the Army at this event, celebrating The Blues and awarding of the Sam Baird Scholarships!
---------------------------------------------------------------------------------------------------------------

WITH A SAD HEART WE SAY FAREWELL TO A TRUE ALL-STAR OF SMOKEHOUSE ...
STEVE "T-BONE" BLAND

T-Bone with Smokehouse
January 28 2013 The Happy Cow
Michael Mulligan • Richie Lee • Scott Mayo
Steve "T-Bone" Bland • Sam Massey

T-Bone with Smokehouse
March 1 2014 Oma Gruene's Secret Garten
The Mighy Orq • Richie Lee • Scott Mayo
Steve "T-Bone" Bland • Sam Massey
Fortunate we are to have performed with T-Bone through the years. Along with his musicianship we appreciate
the man himself. There was so much more to Steve than his drumming. Sharpness, intelligence, and charisma.
His recent passing has shaken those of us in his world. He was always where his friends were. And now he has
been booked for the greatest gig of eternity. Spoken well of ... he is. Missed ... he is. Loved ... he is.
RIP T-BONE.

---------------------------------------------------------------------------------------------------------------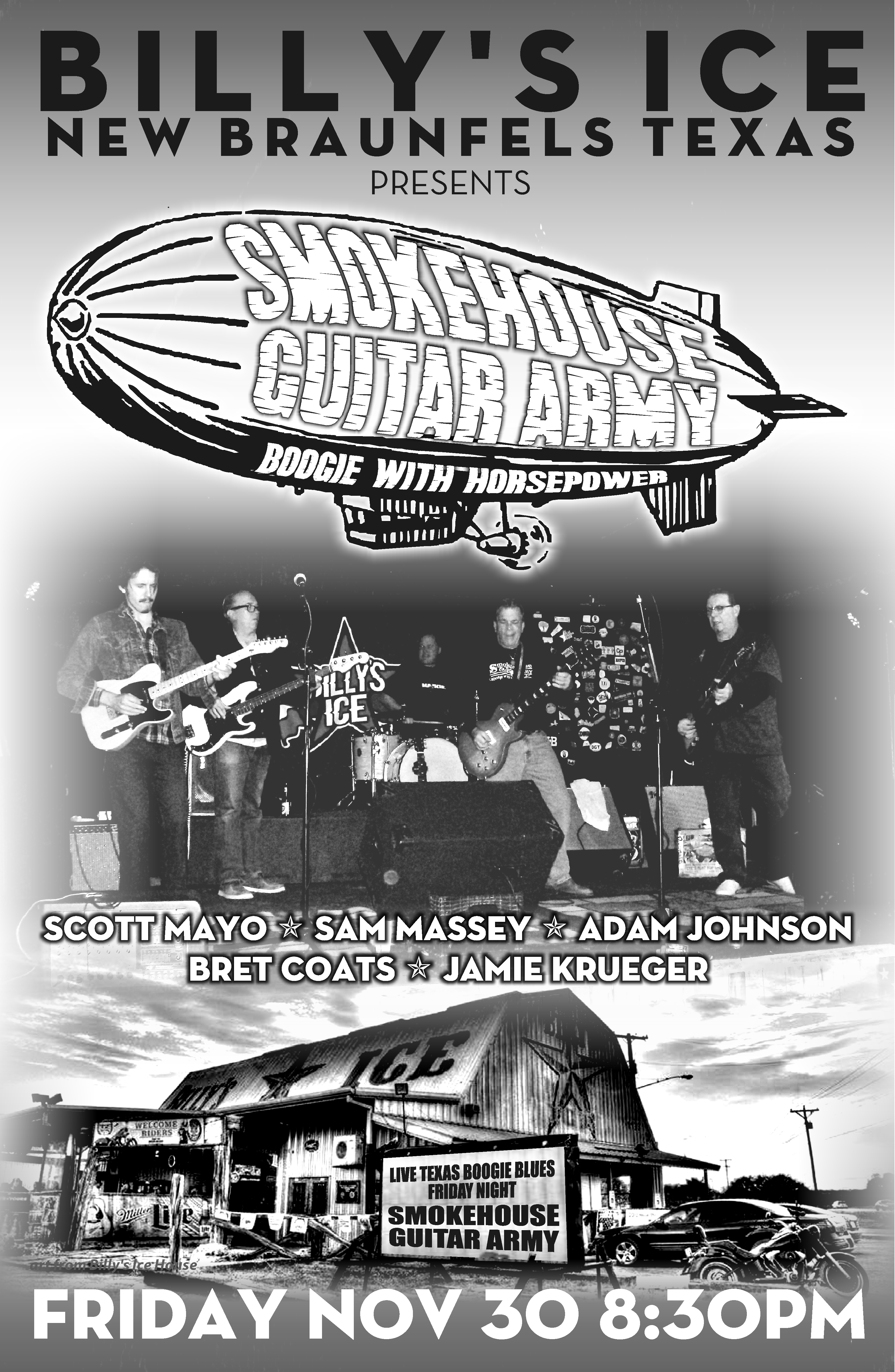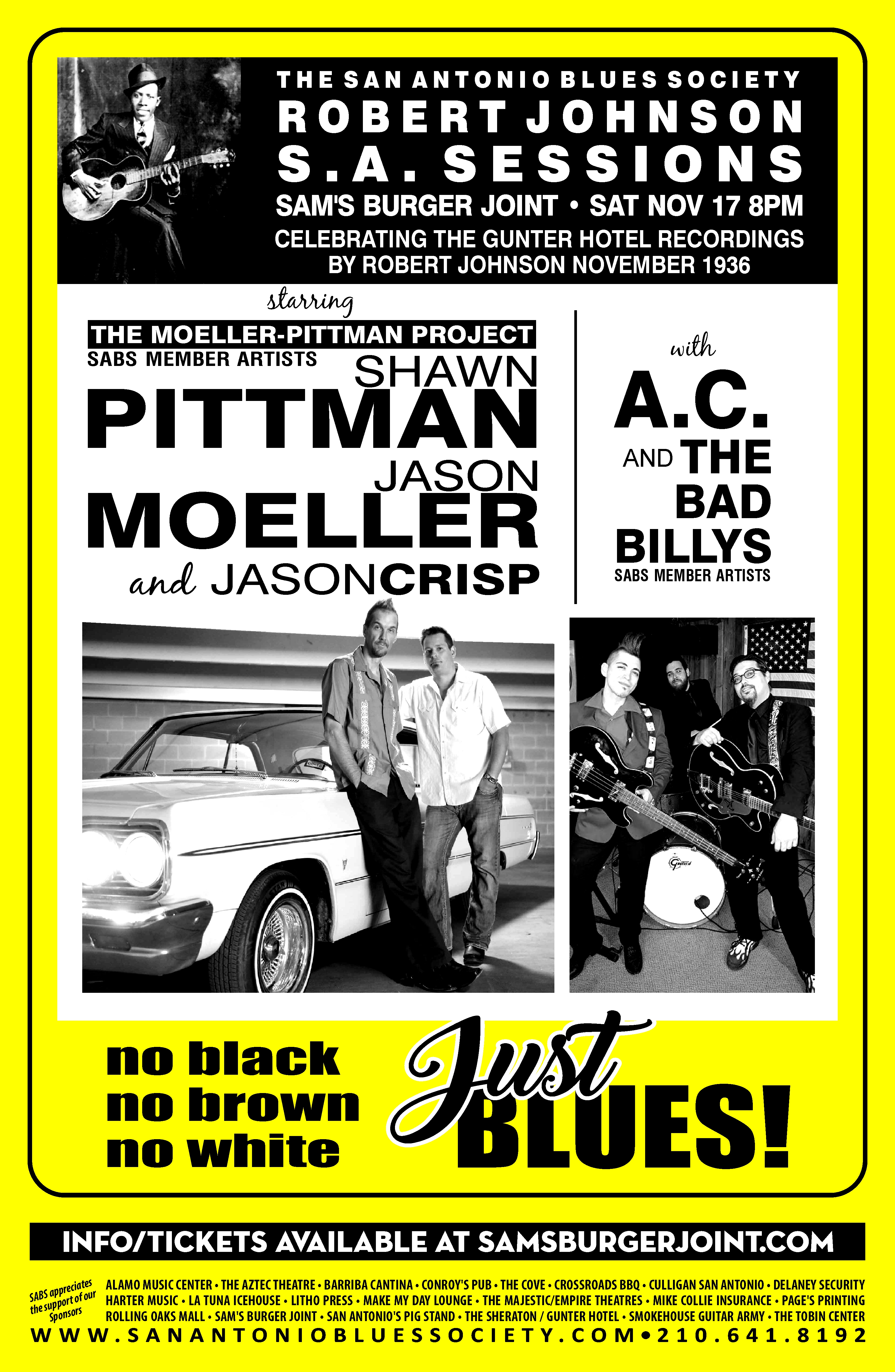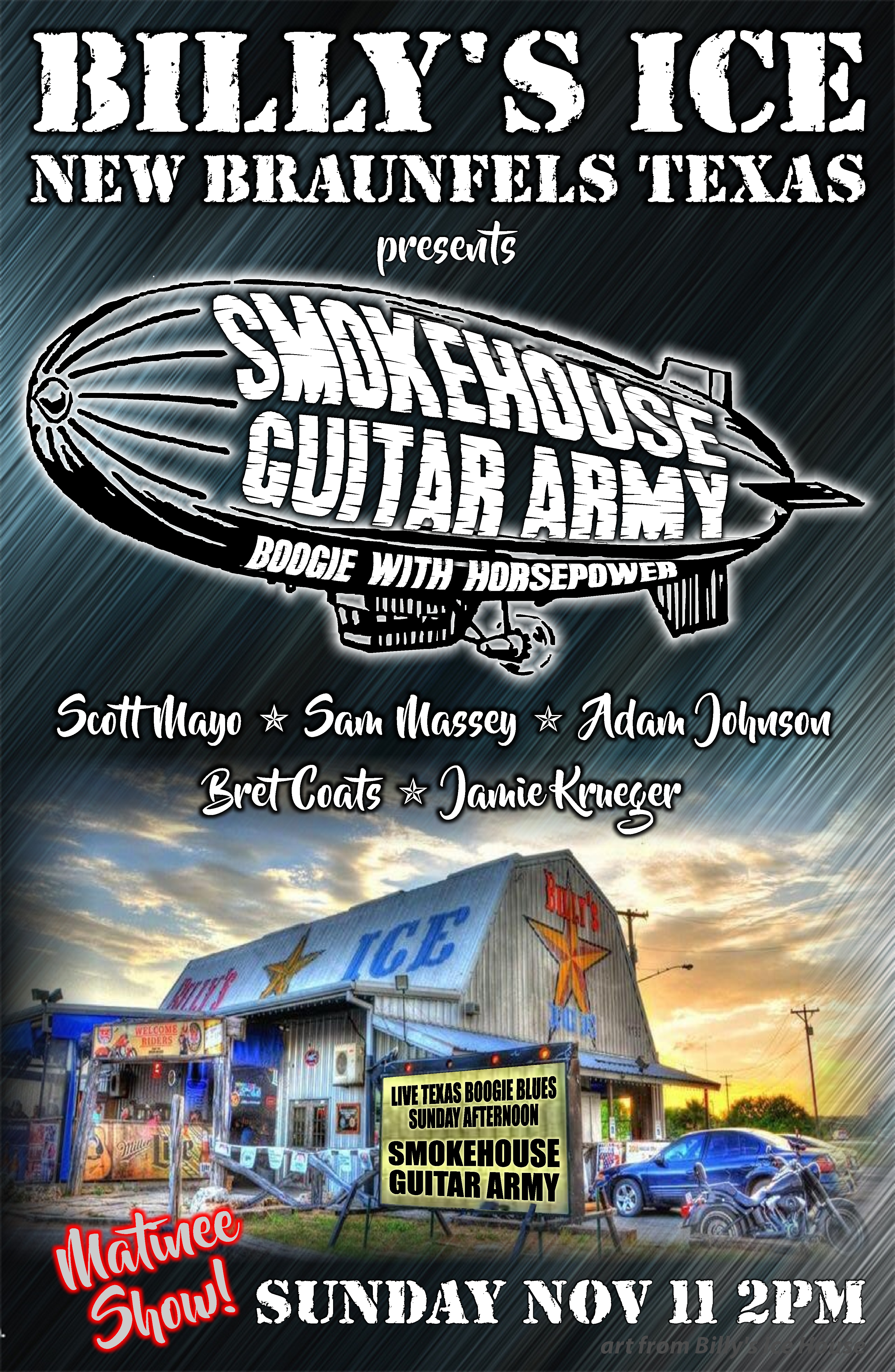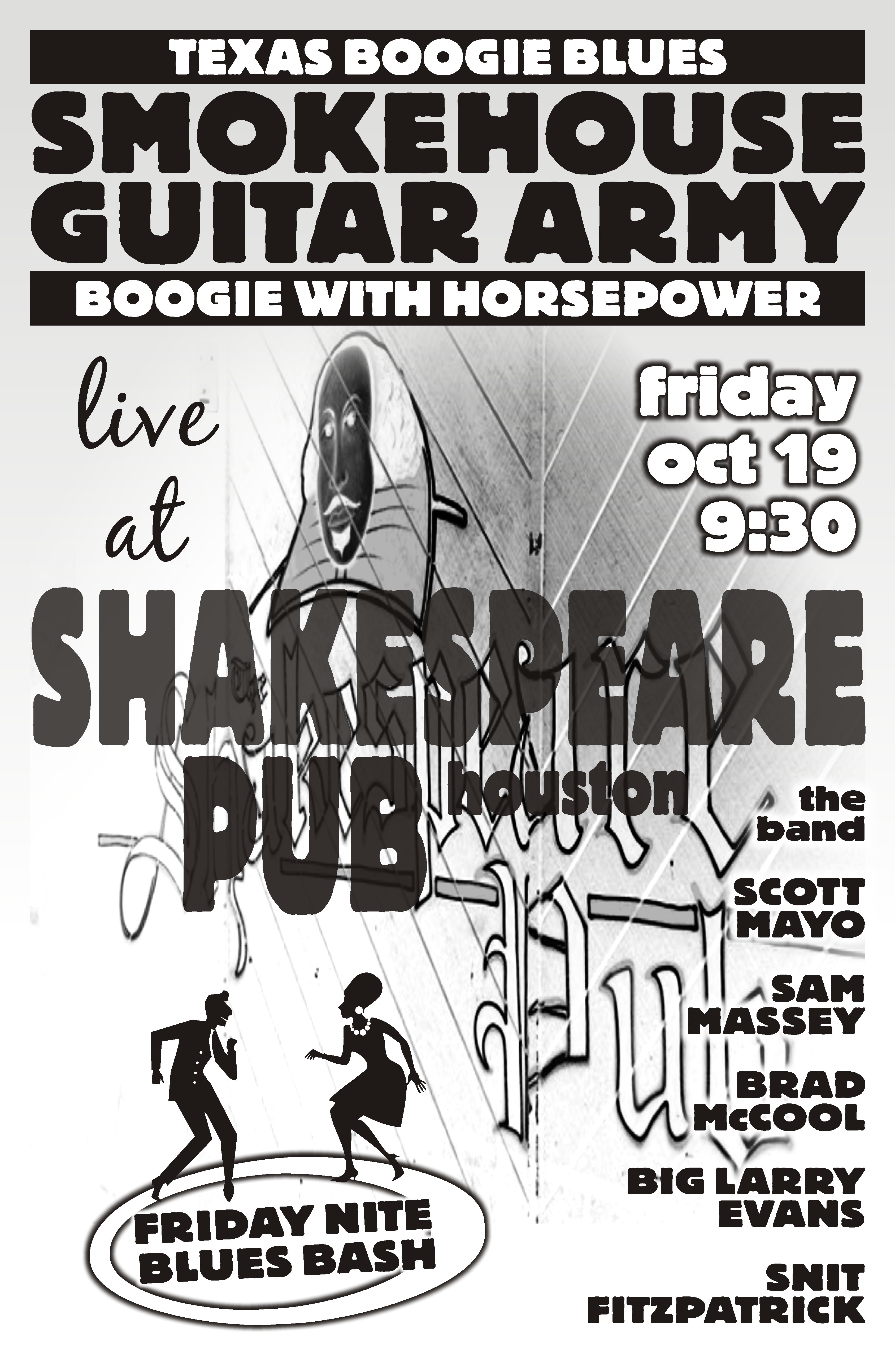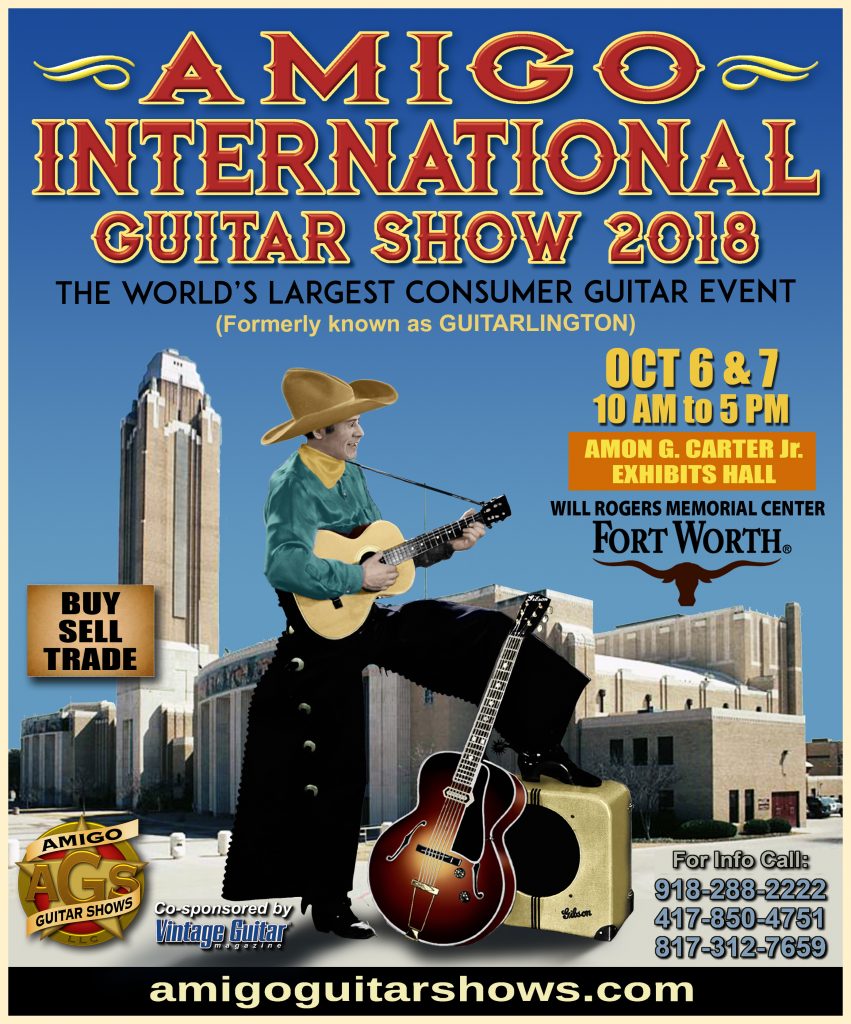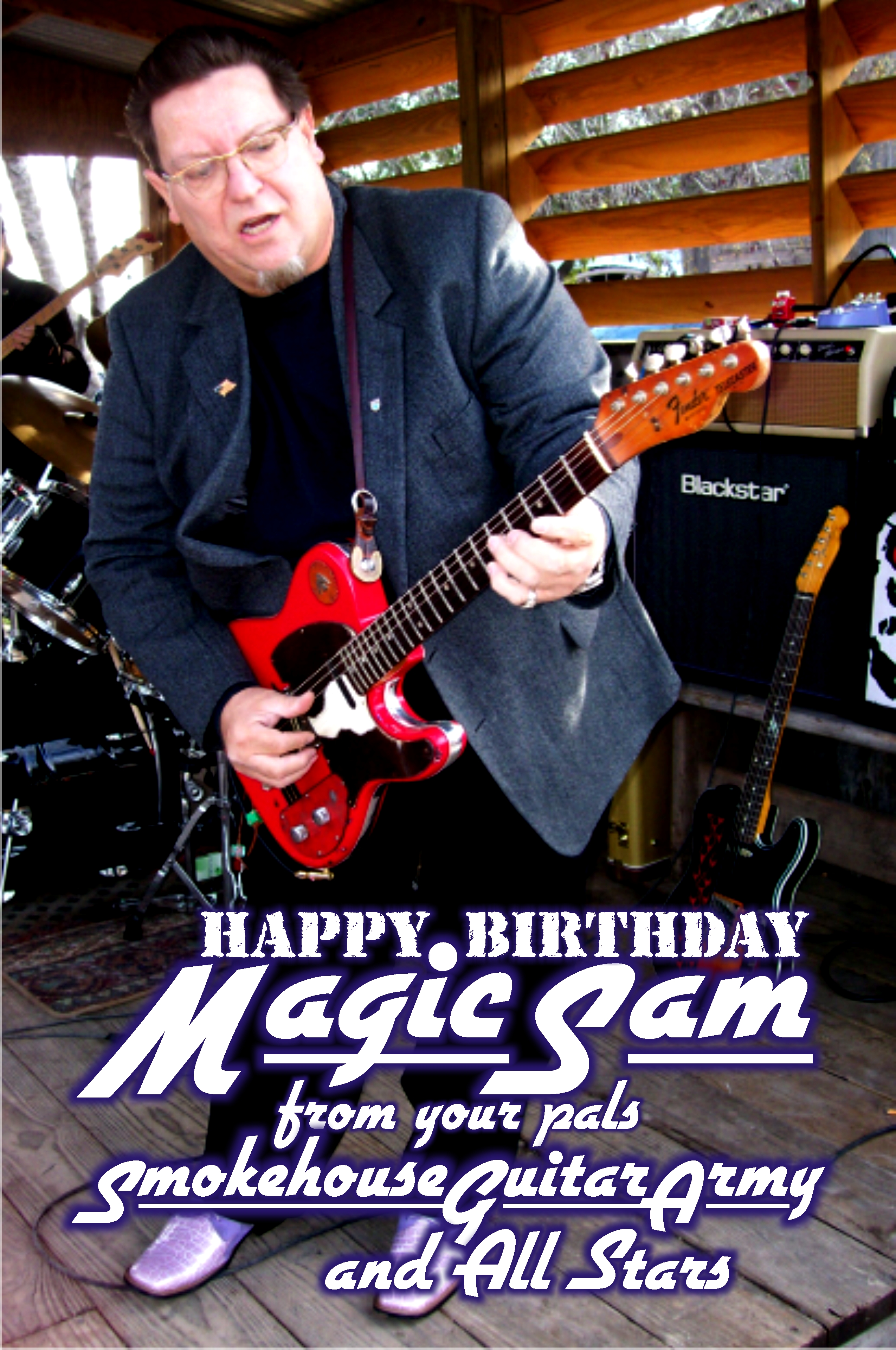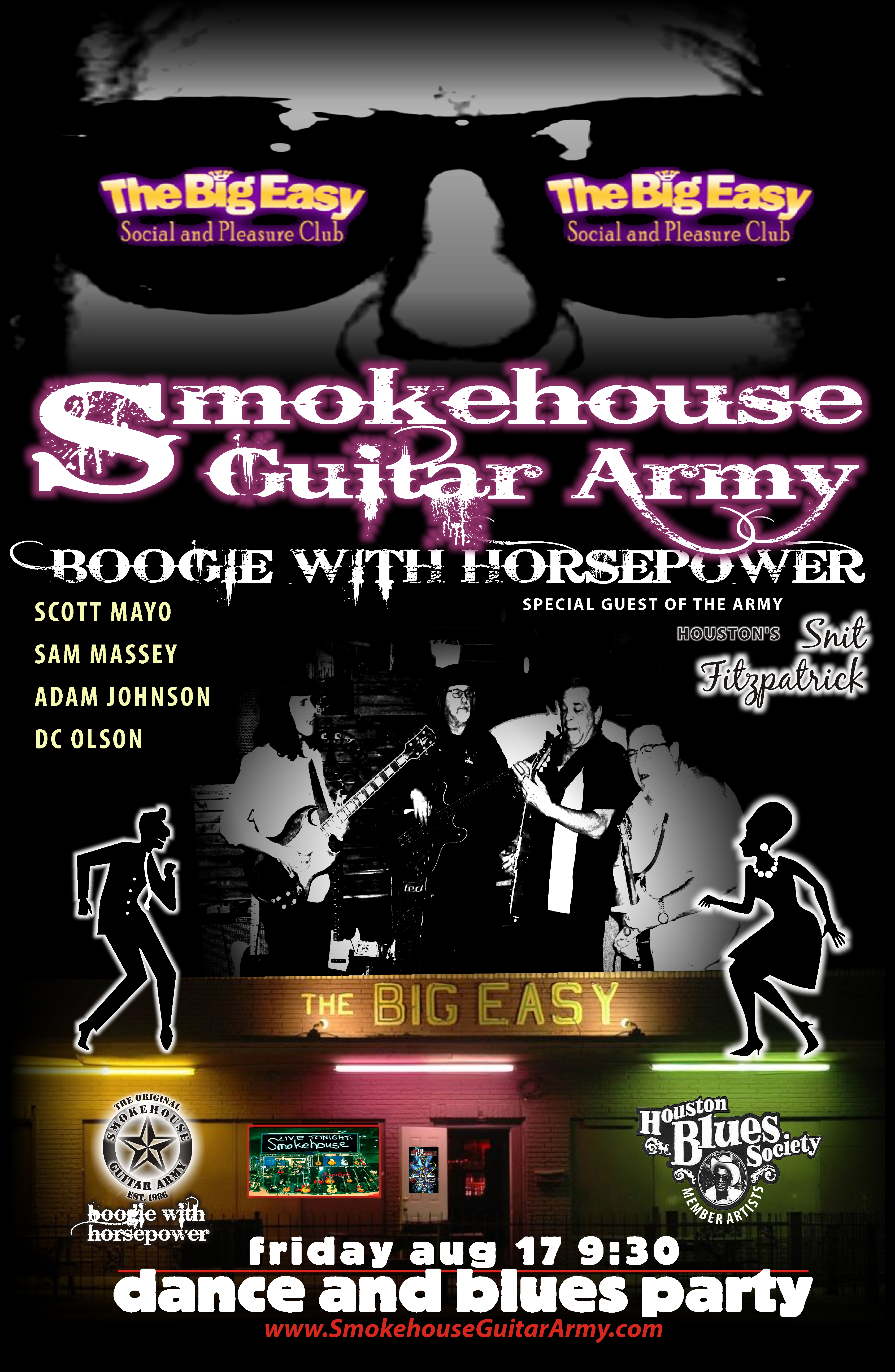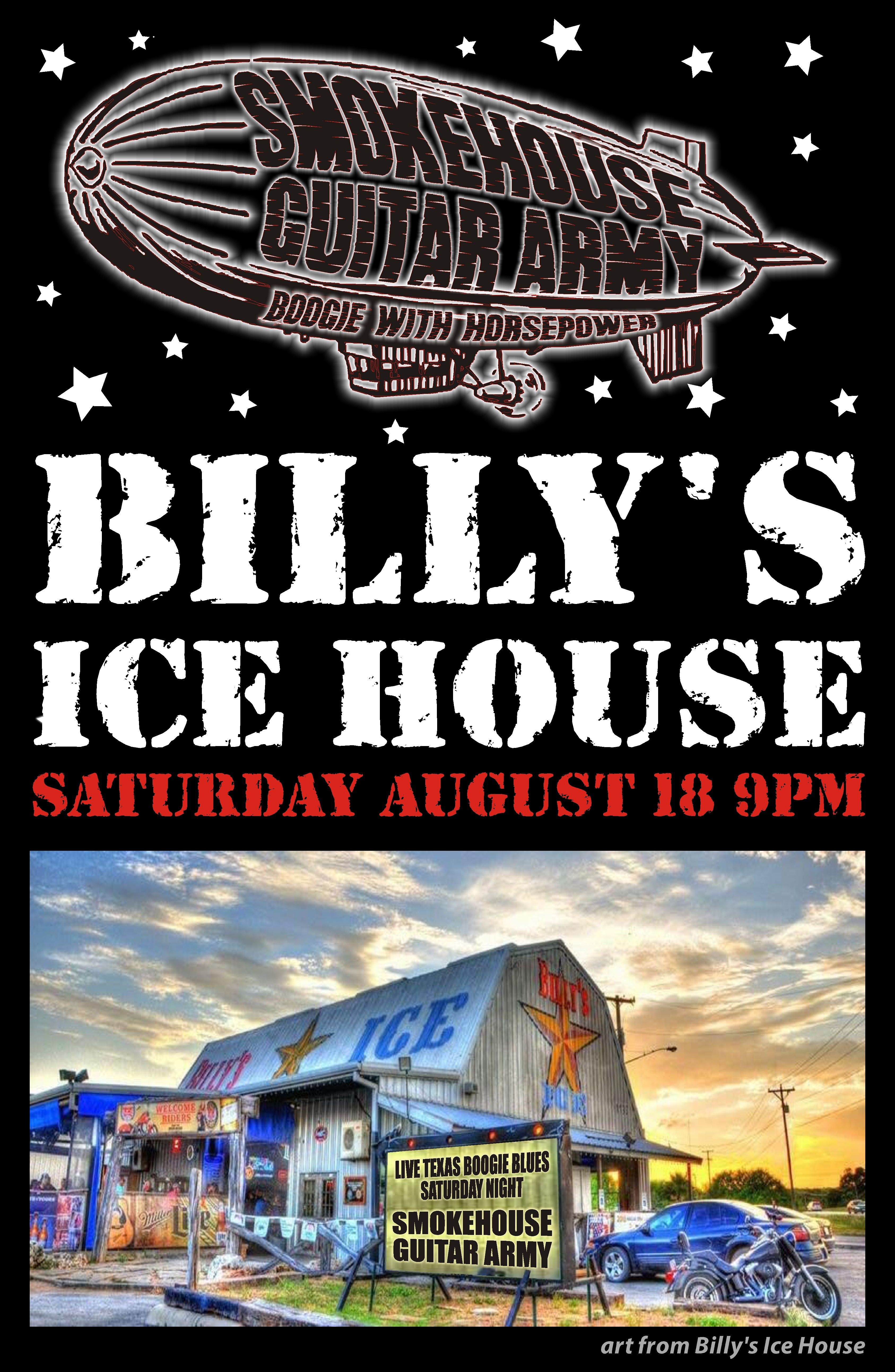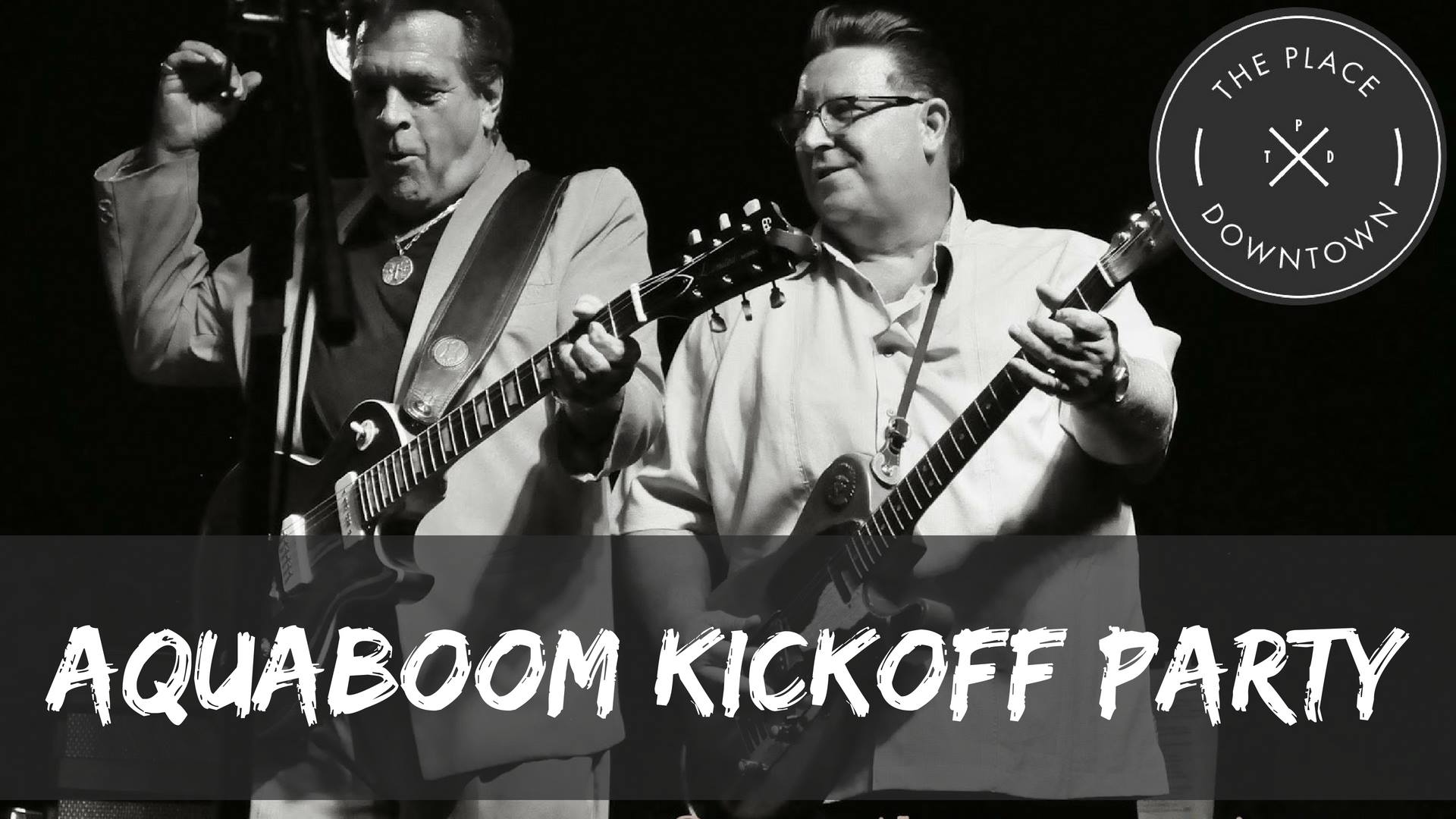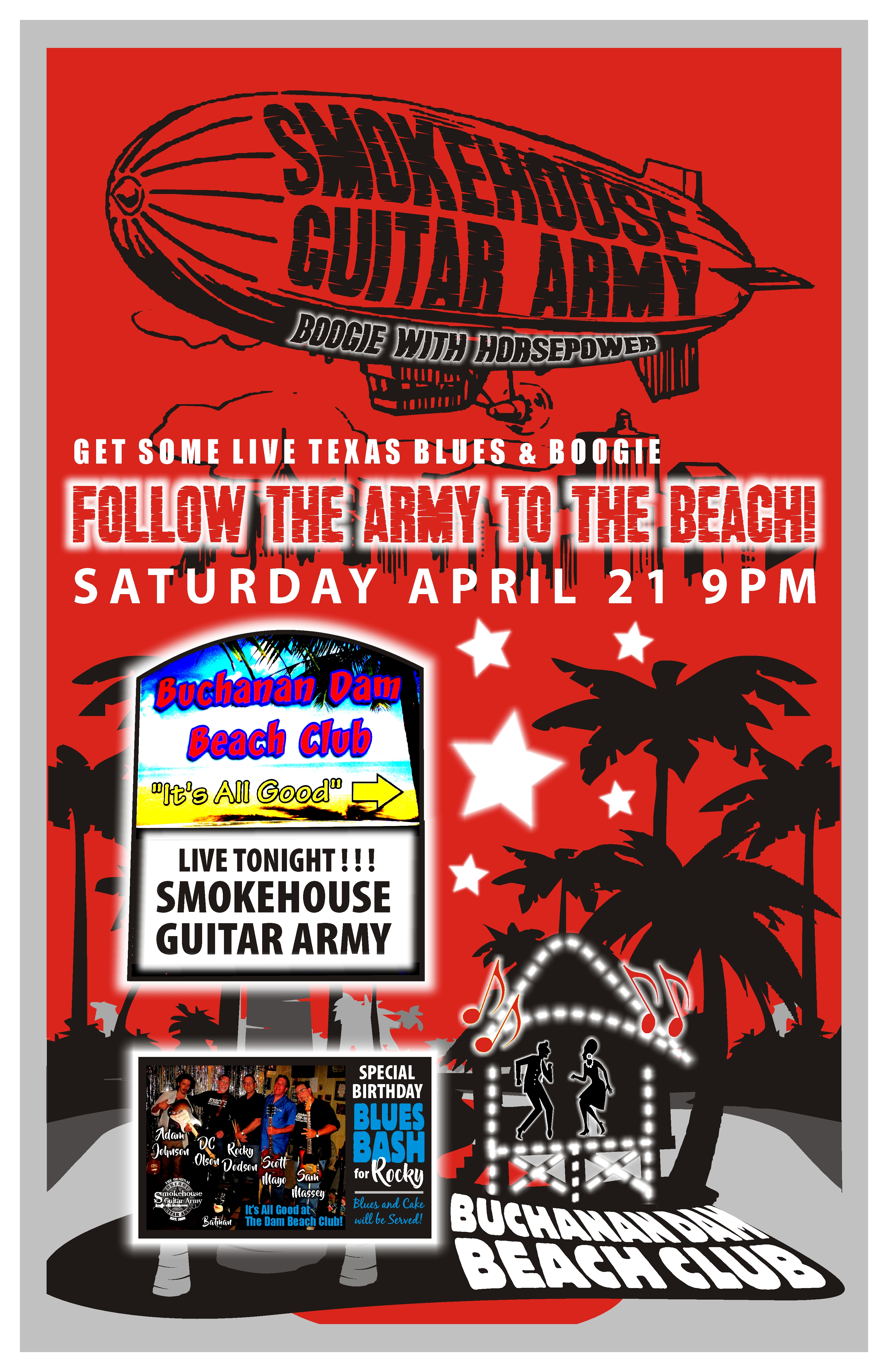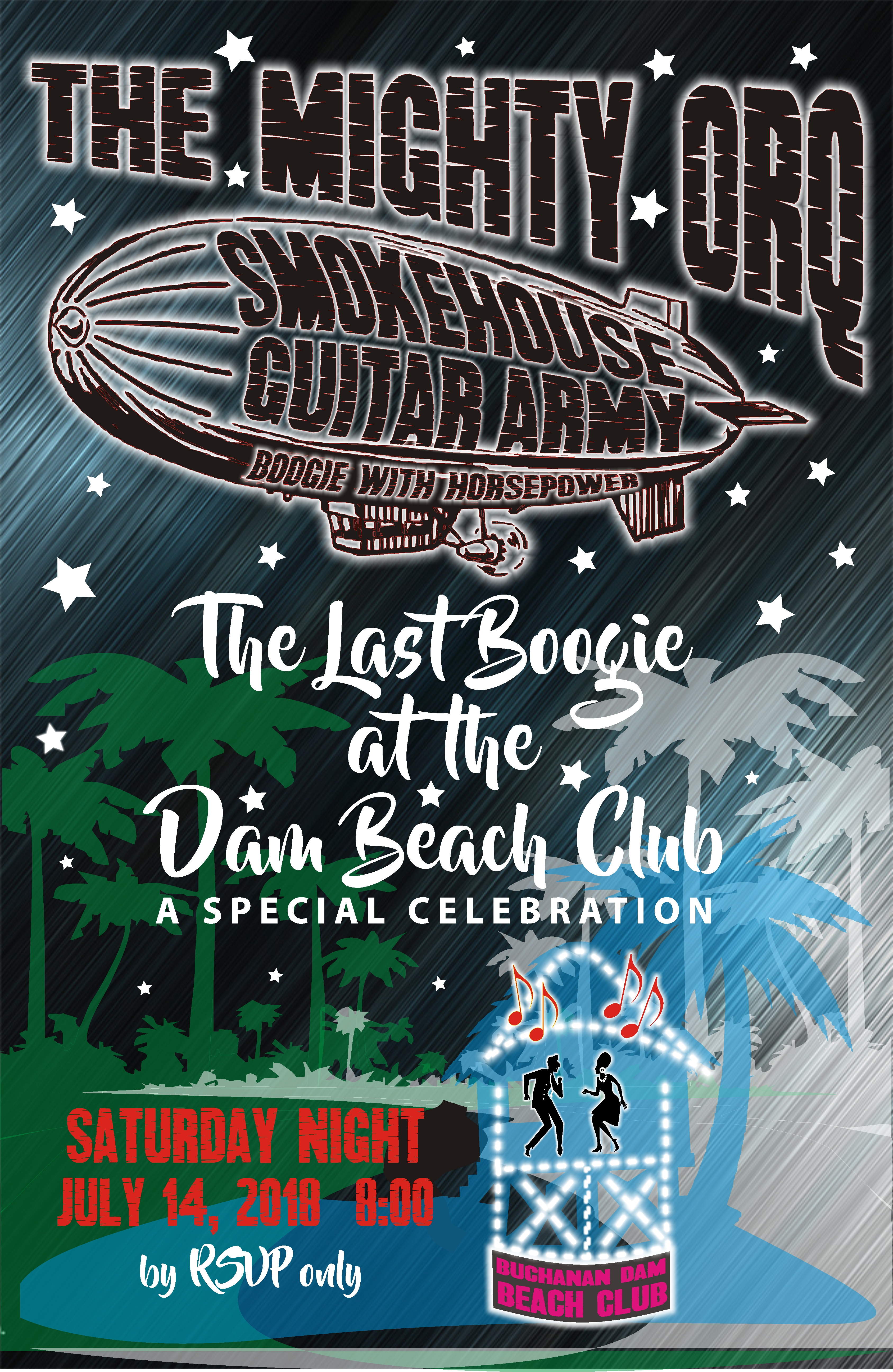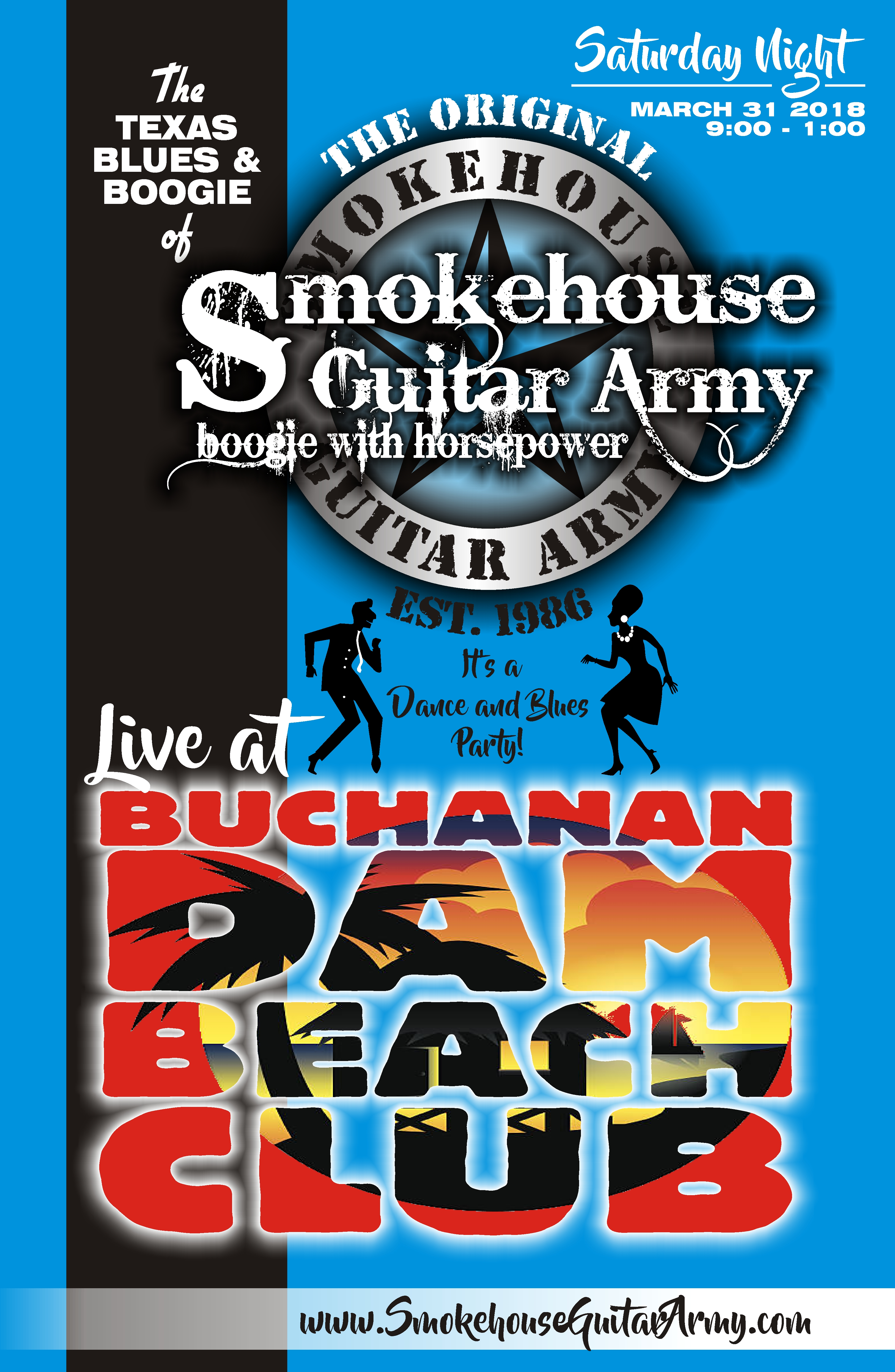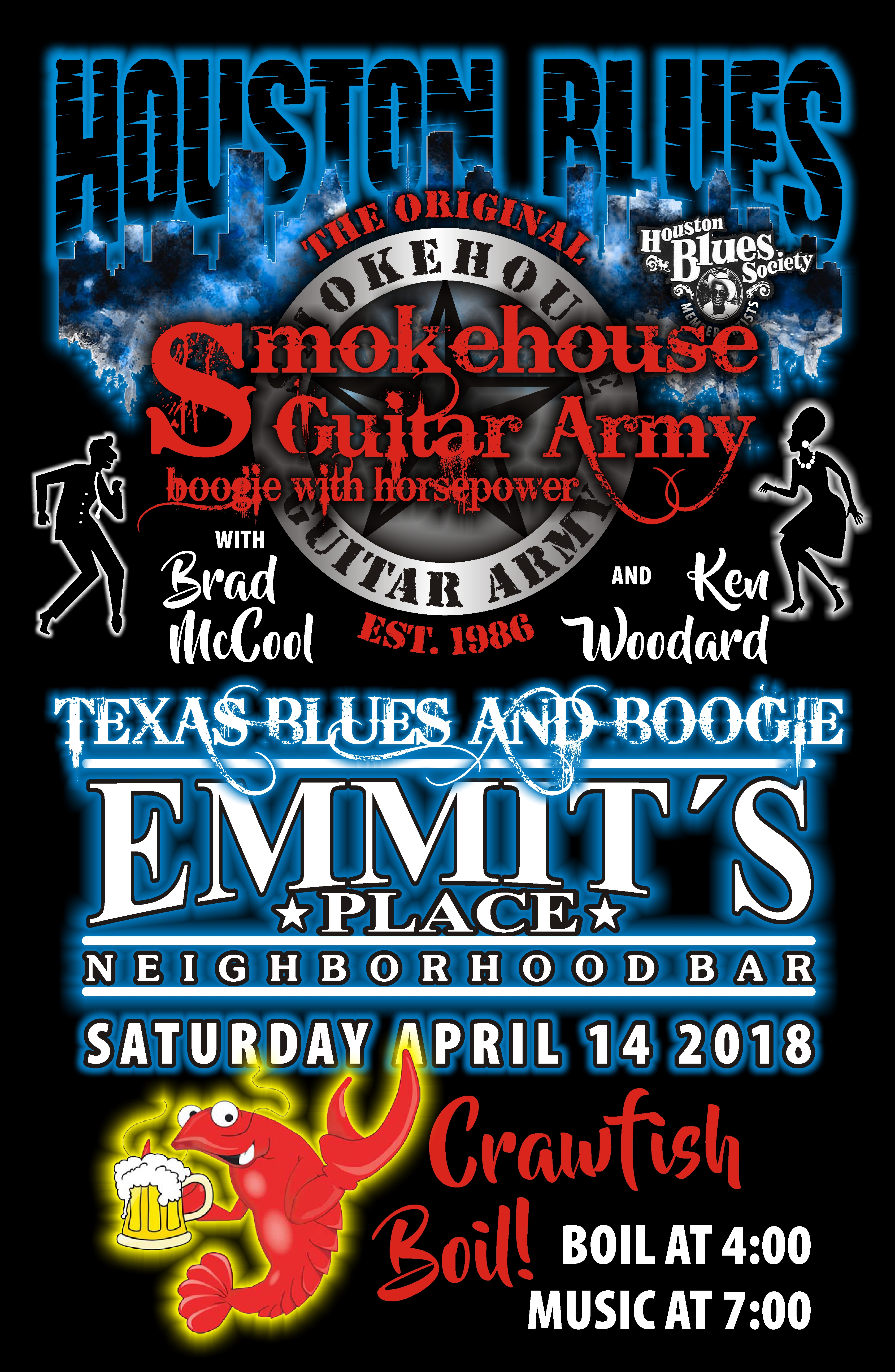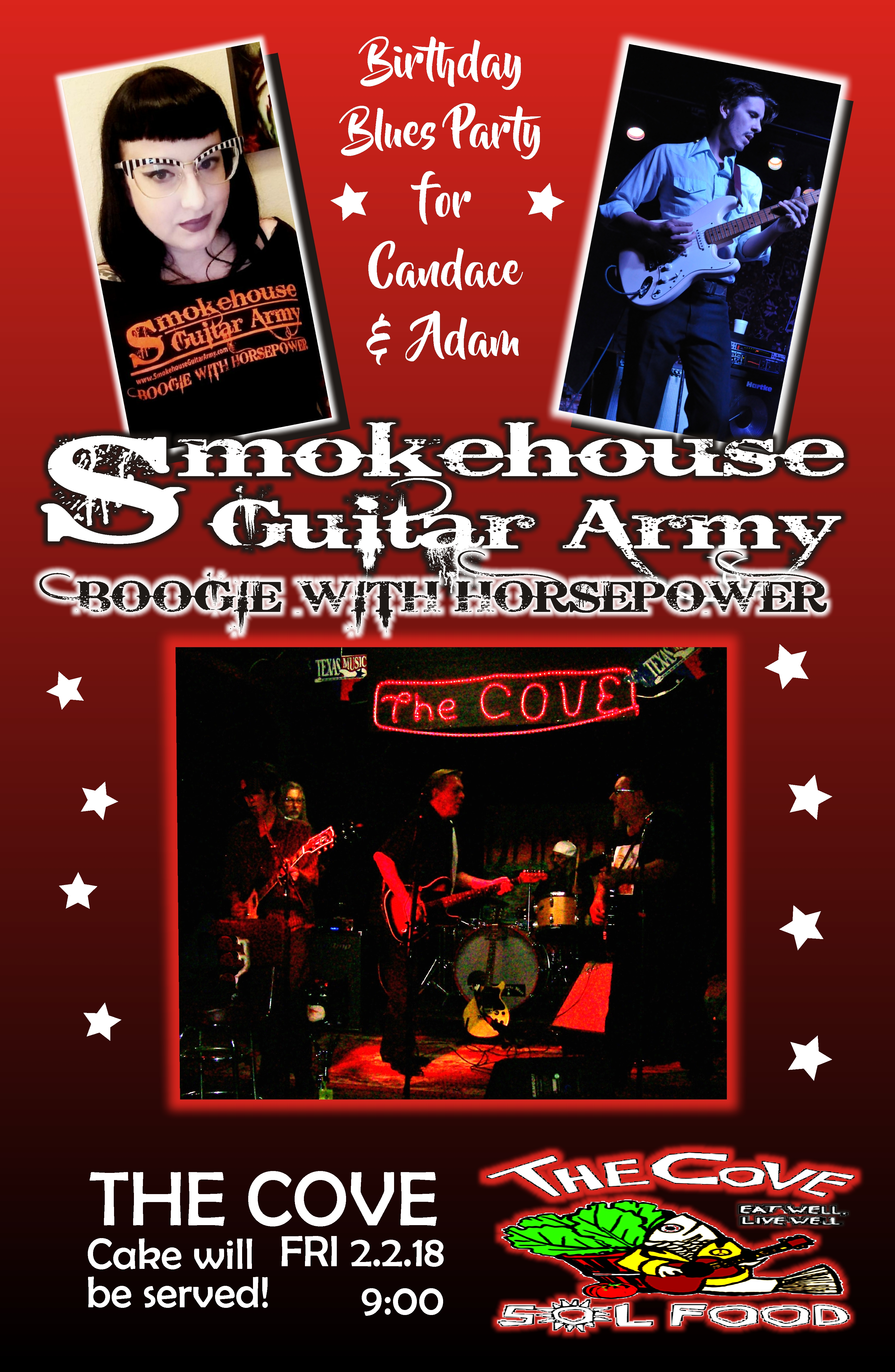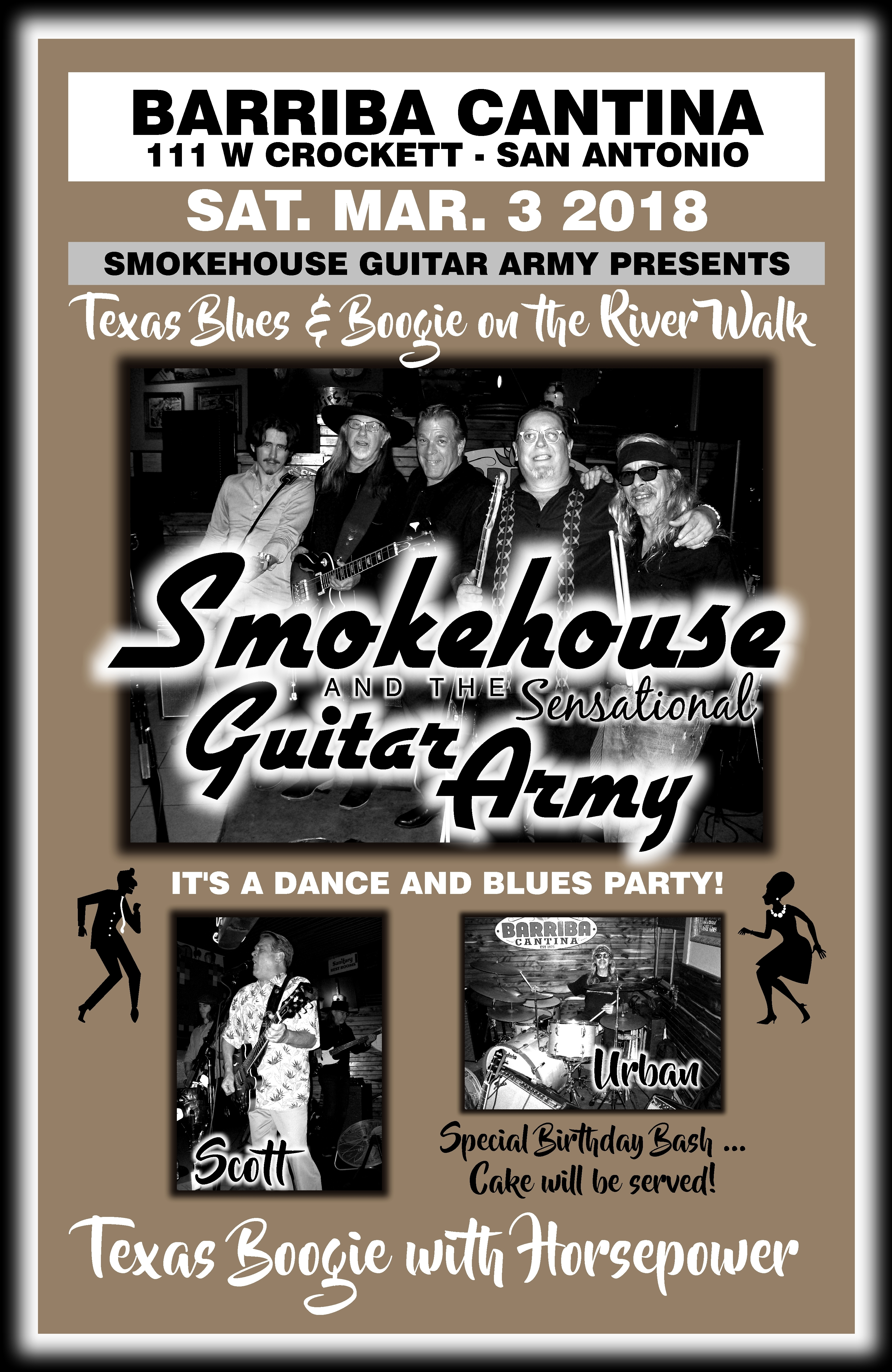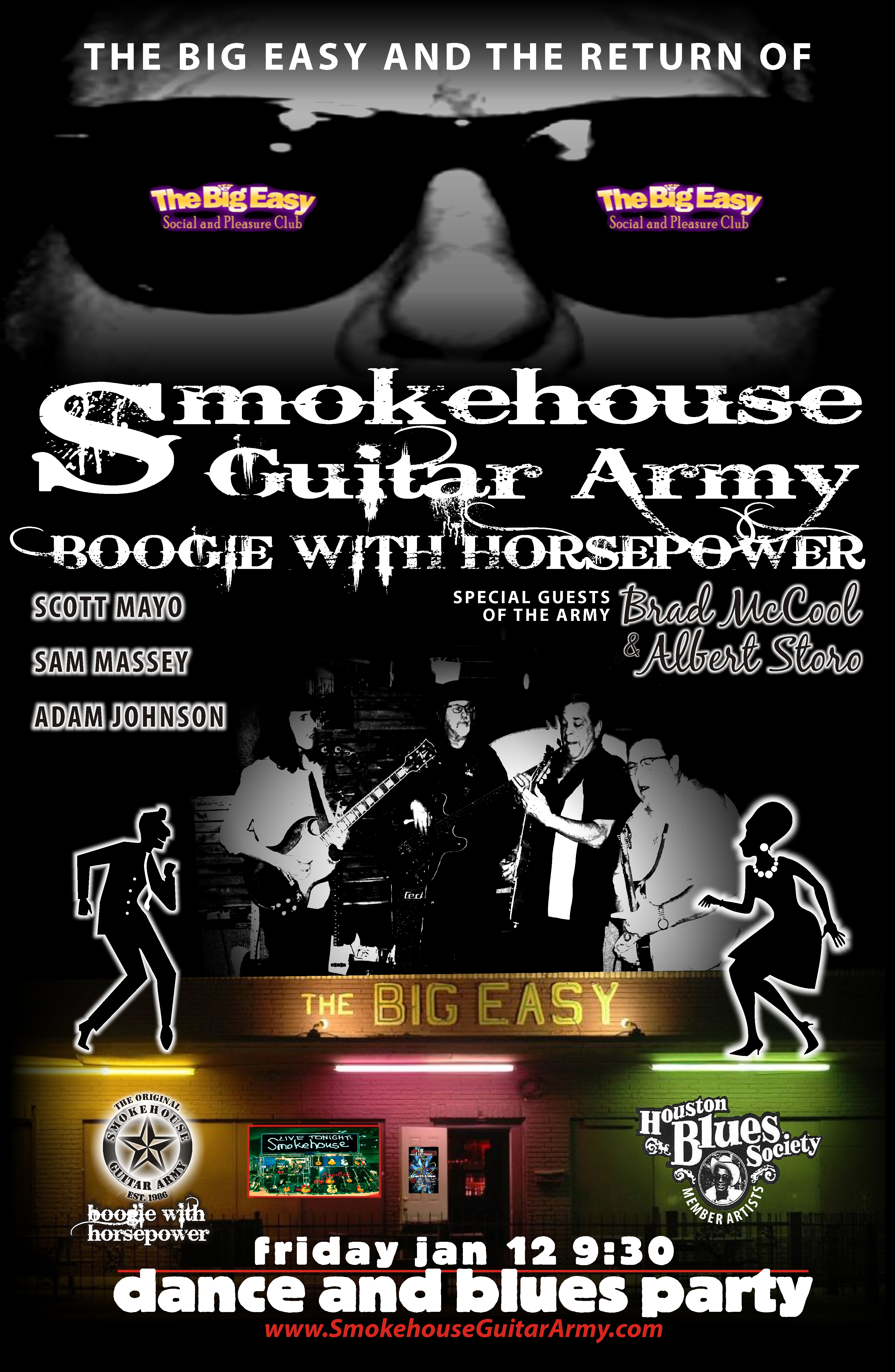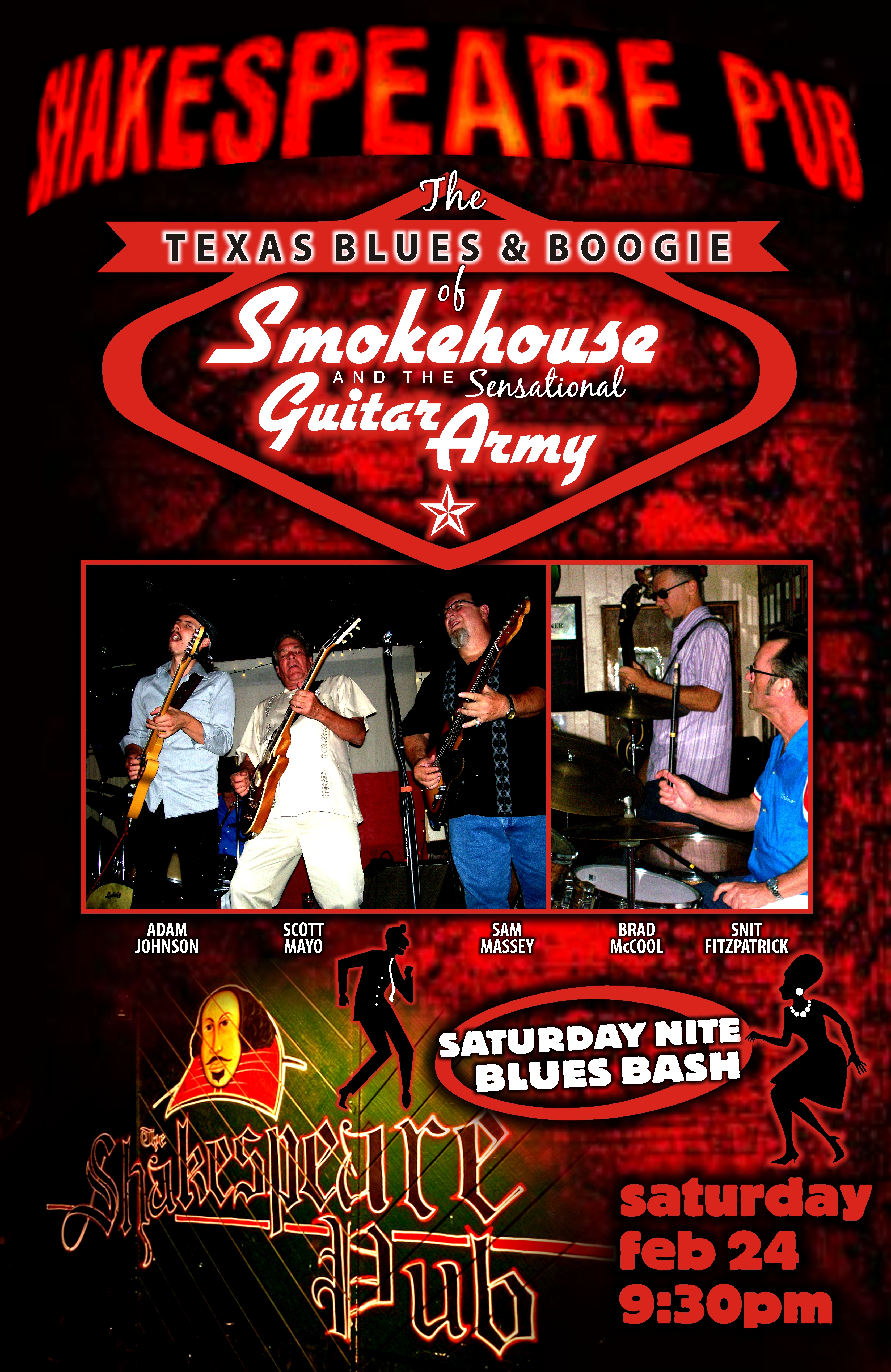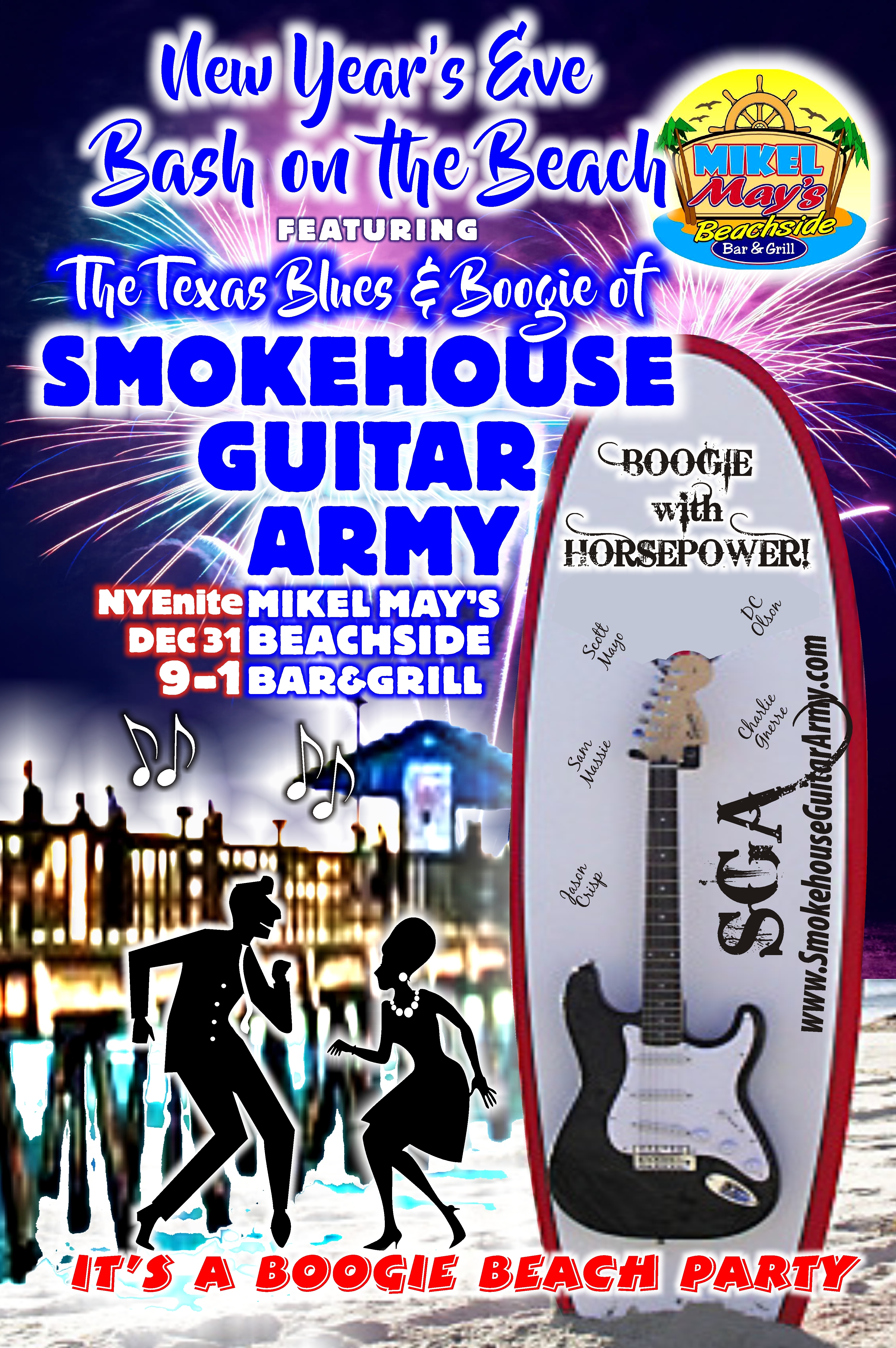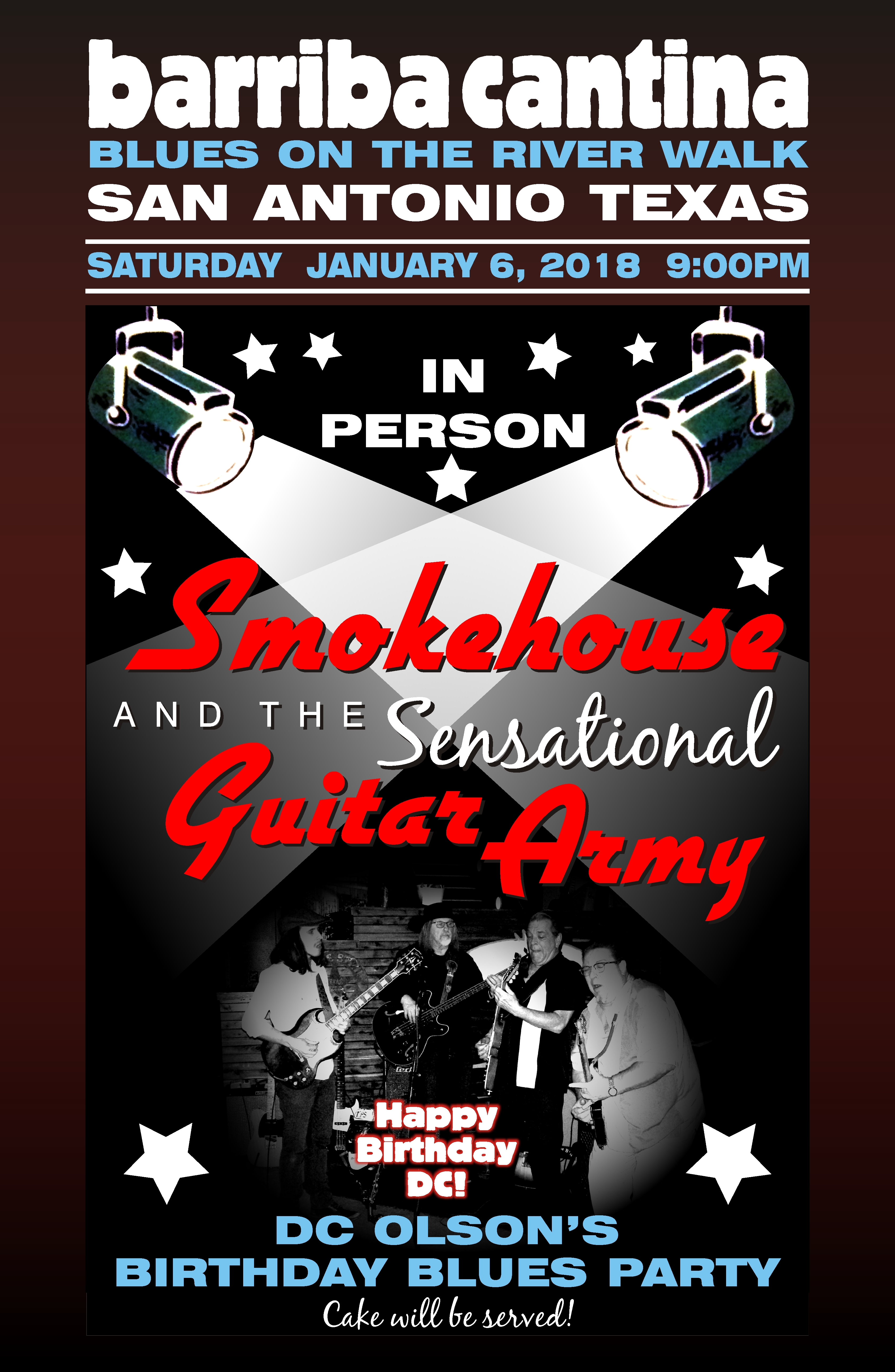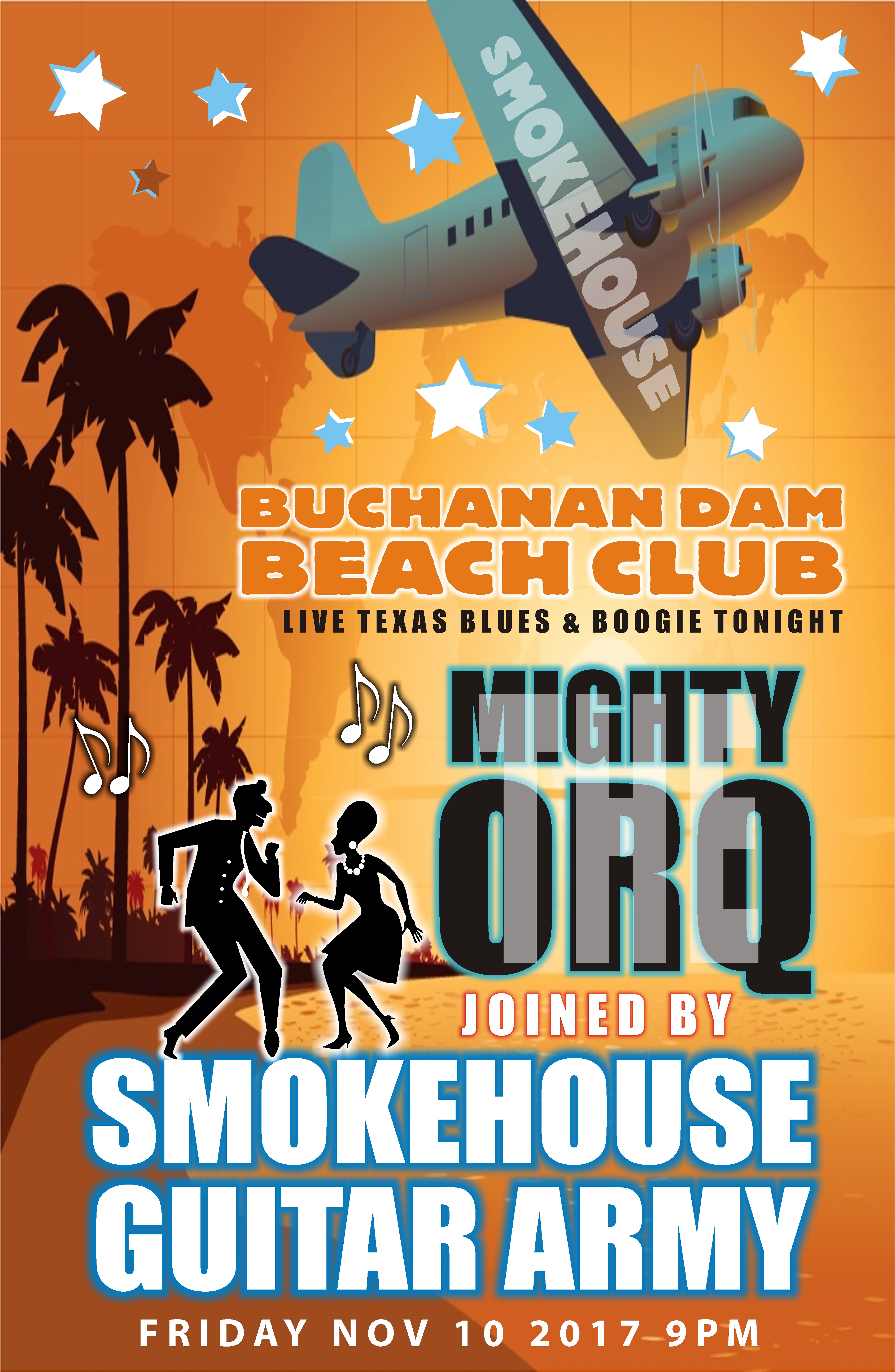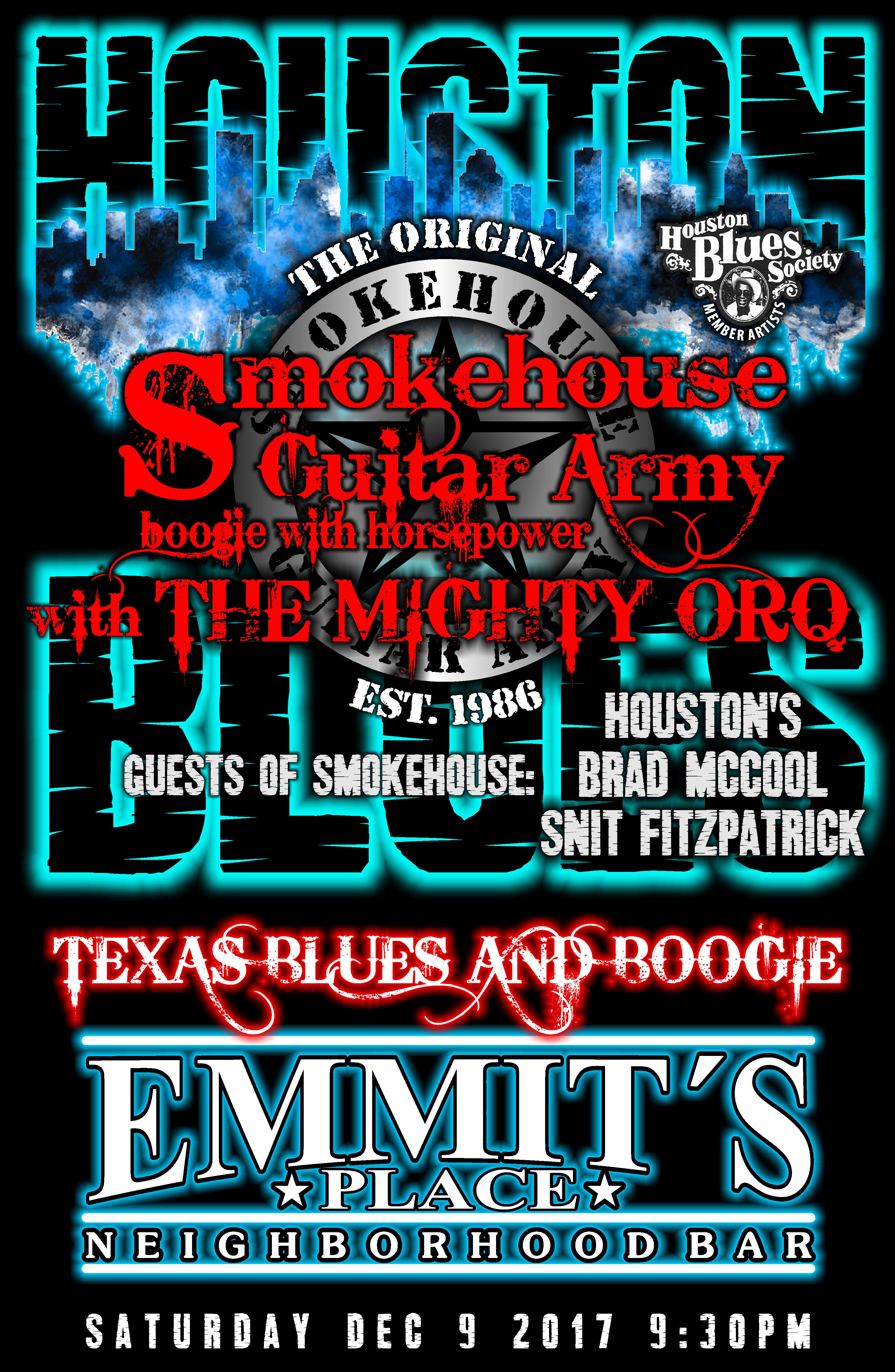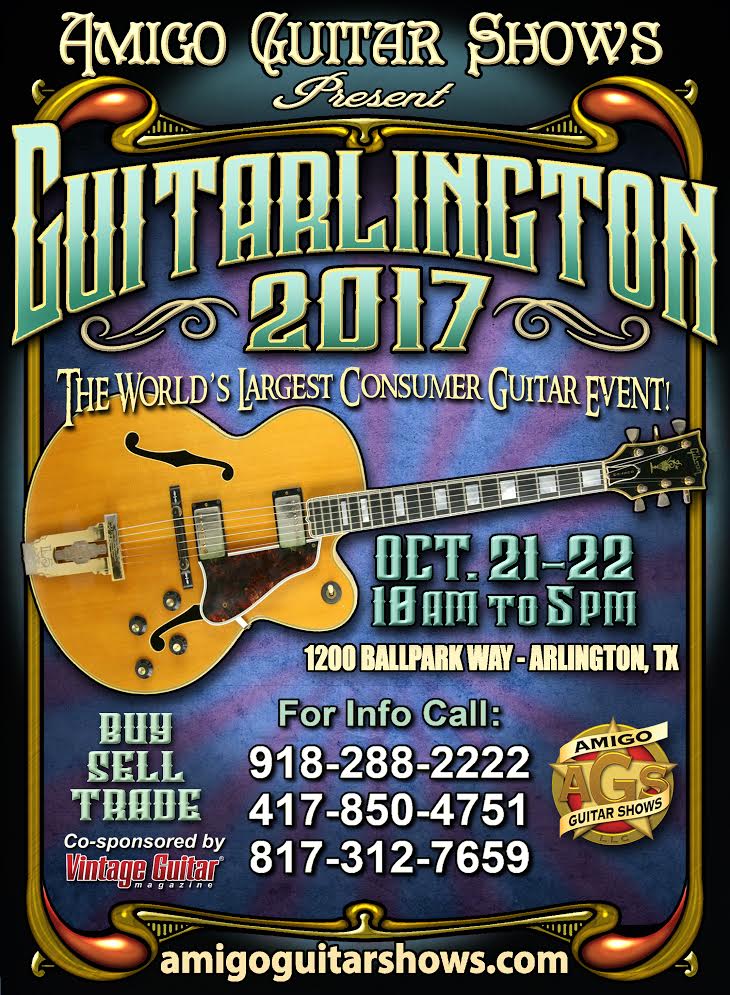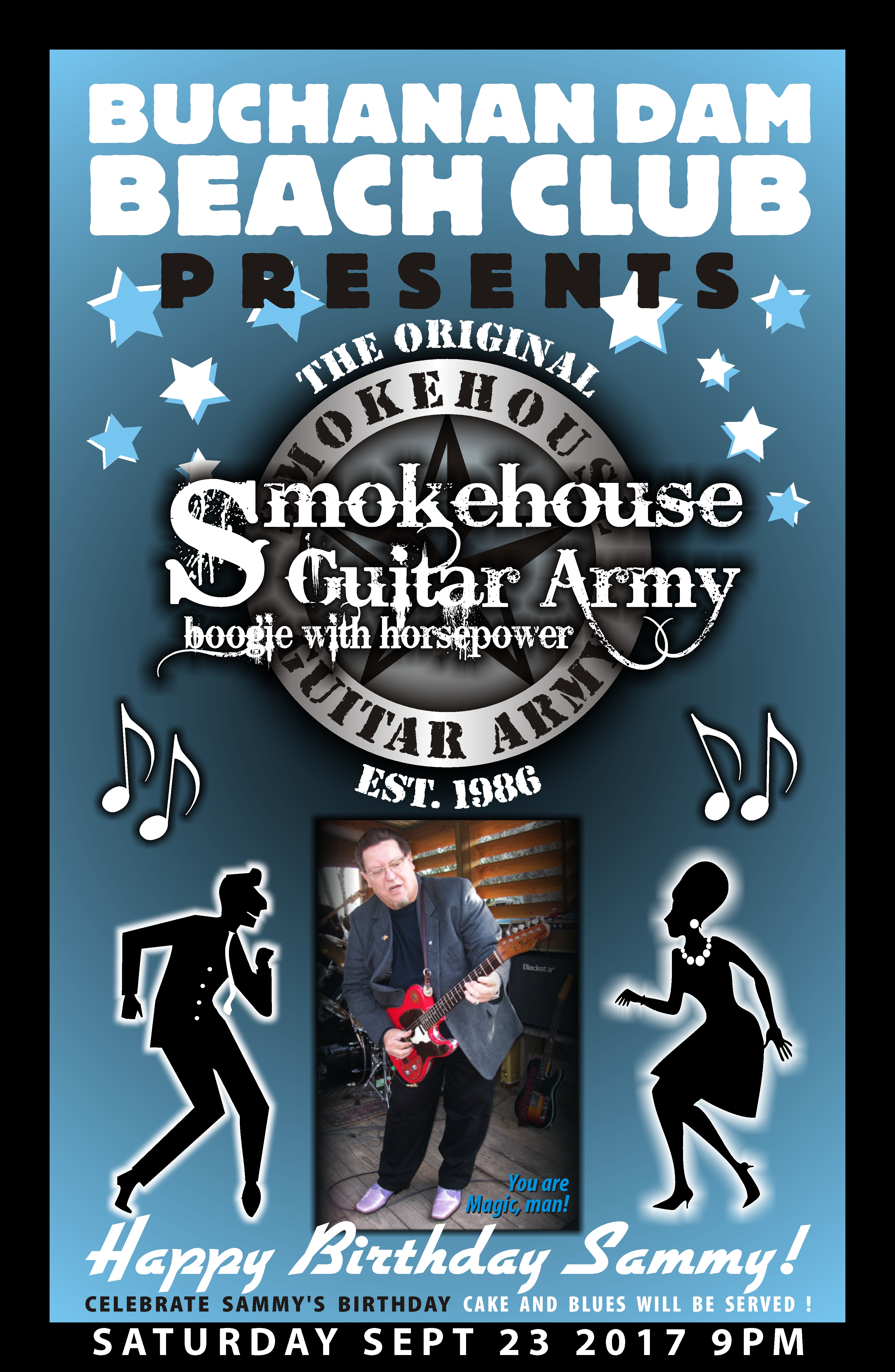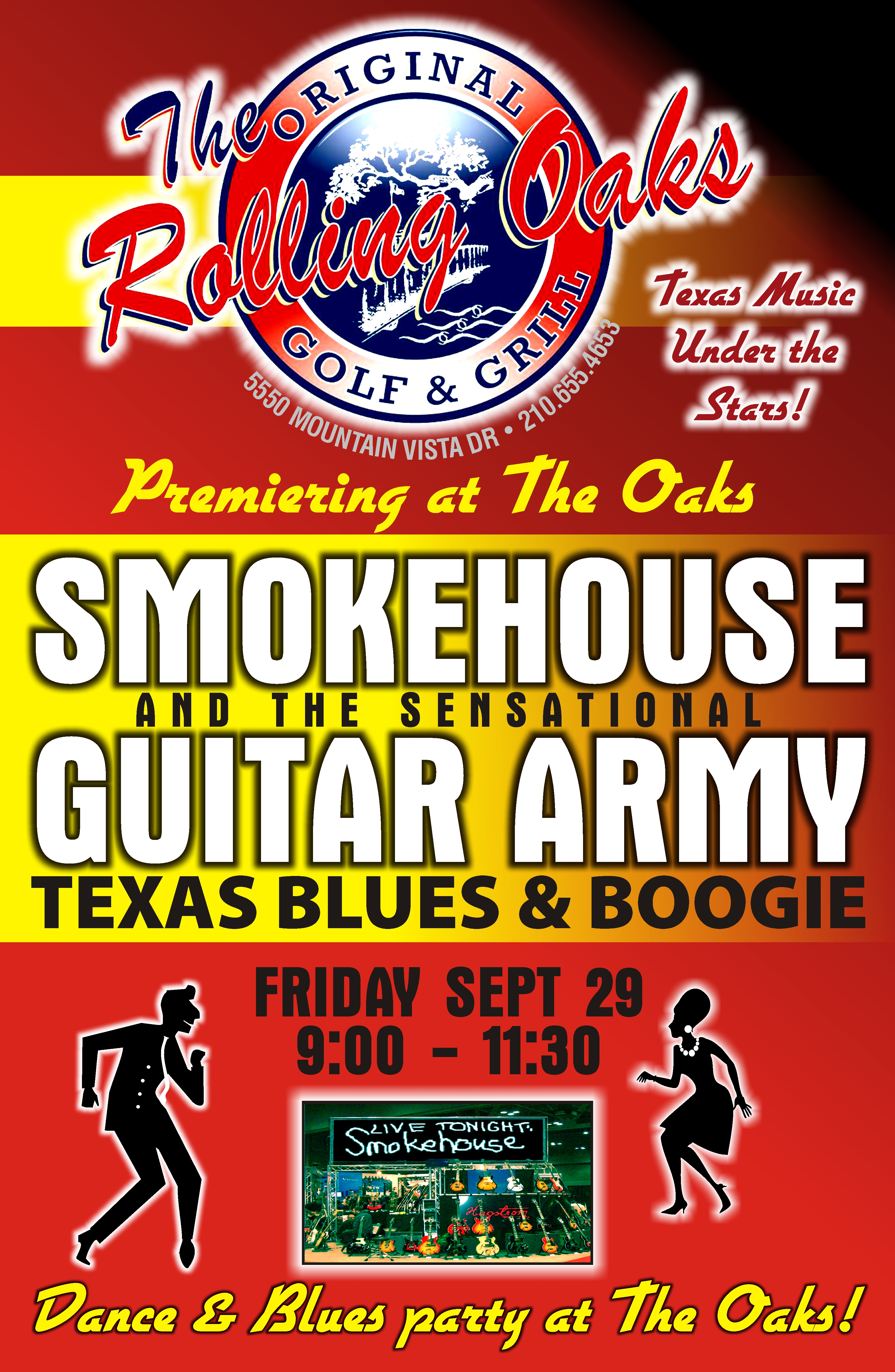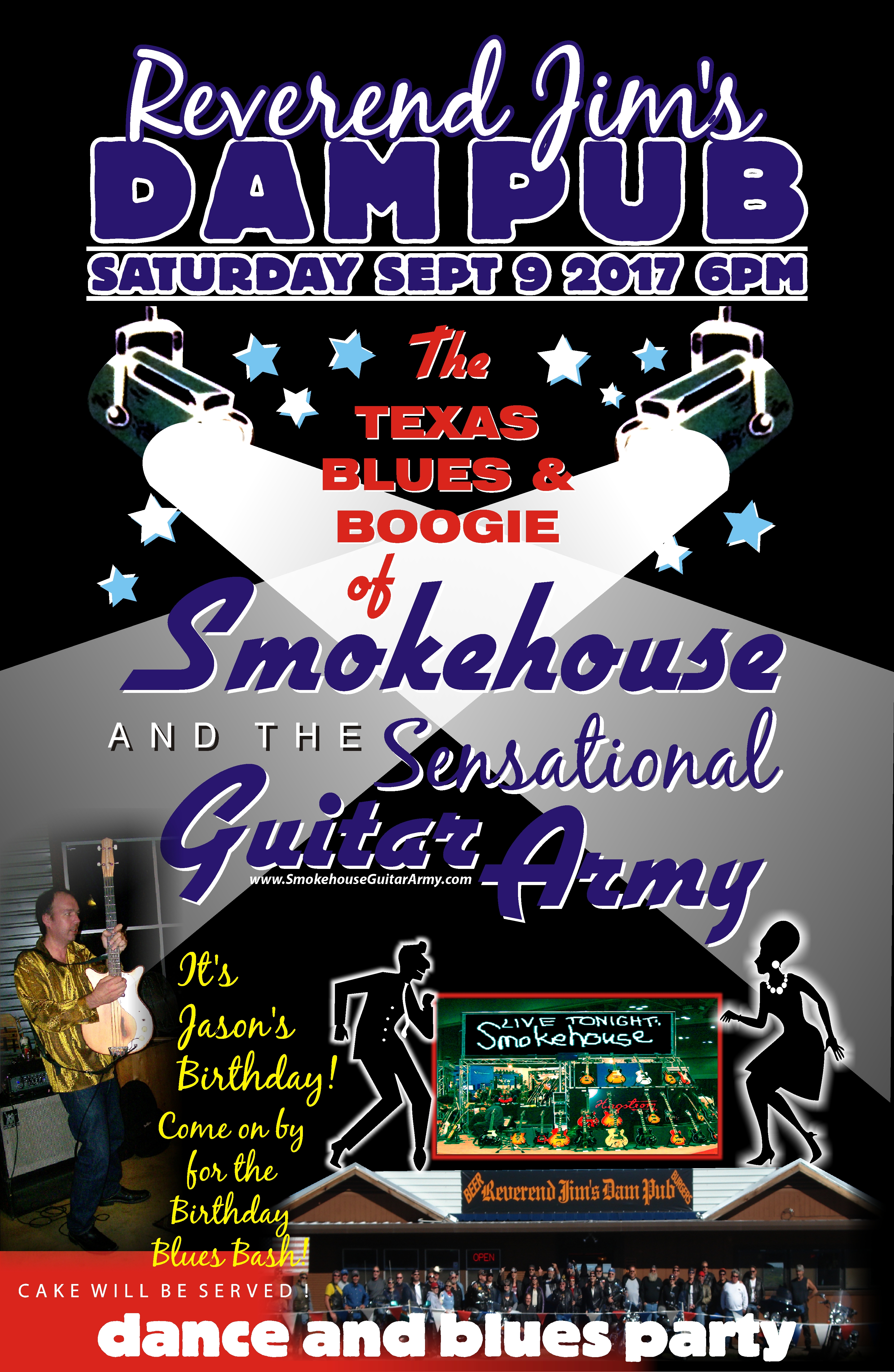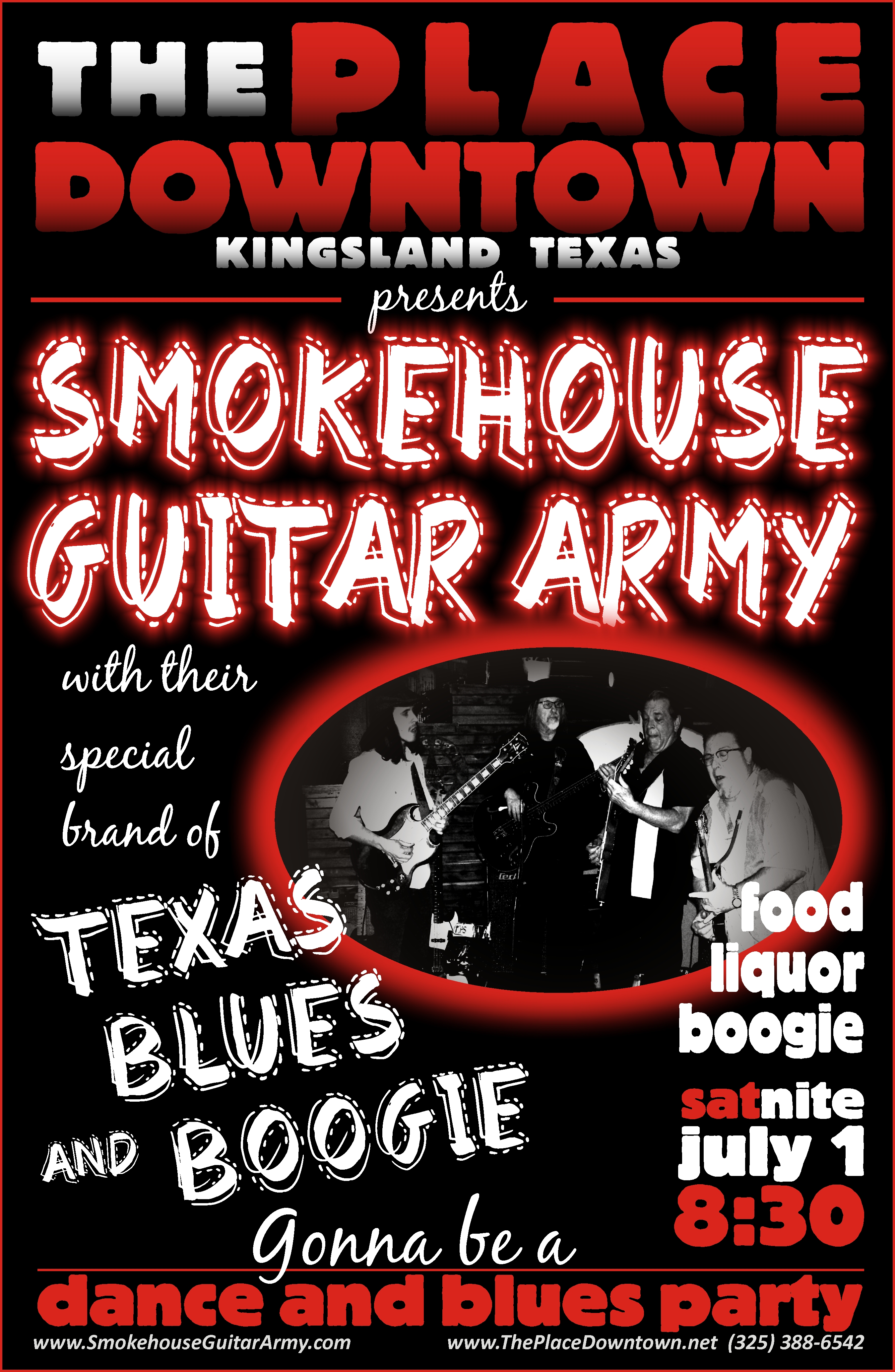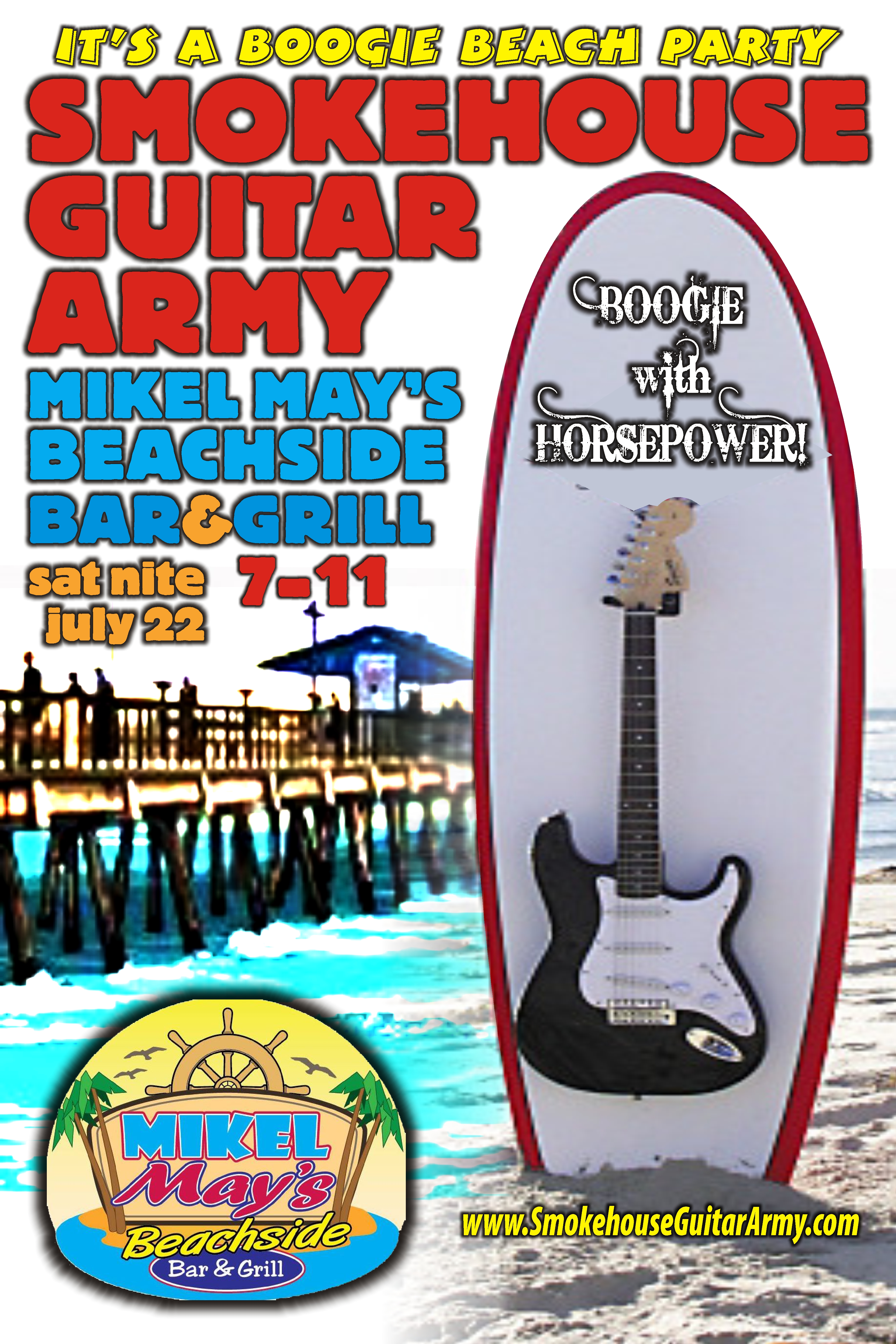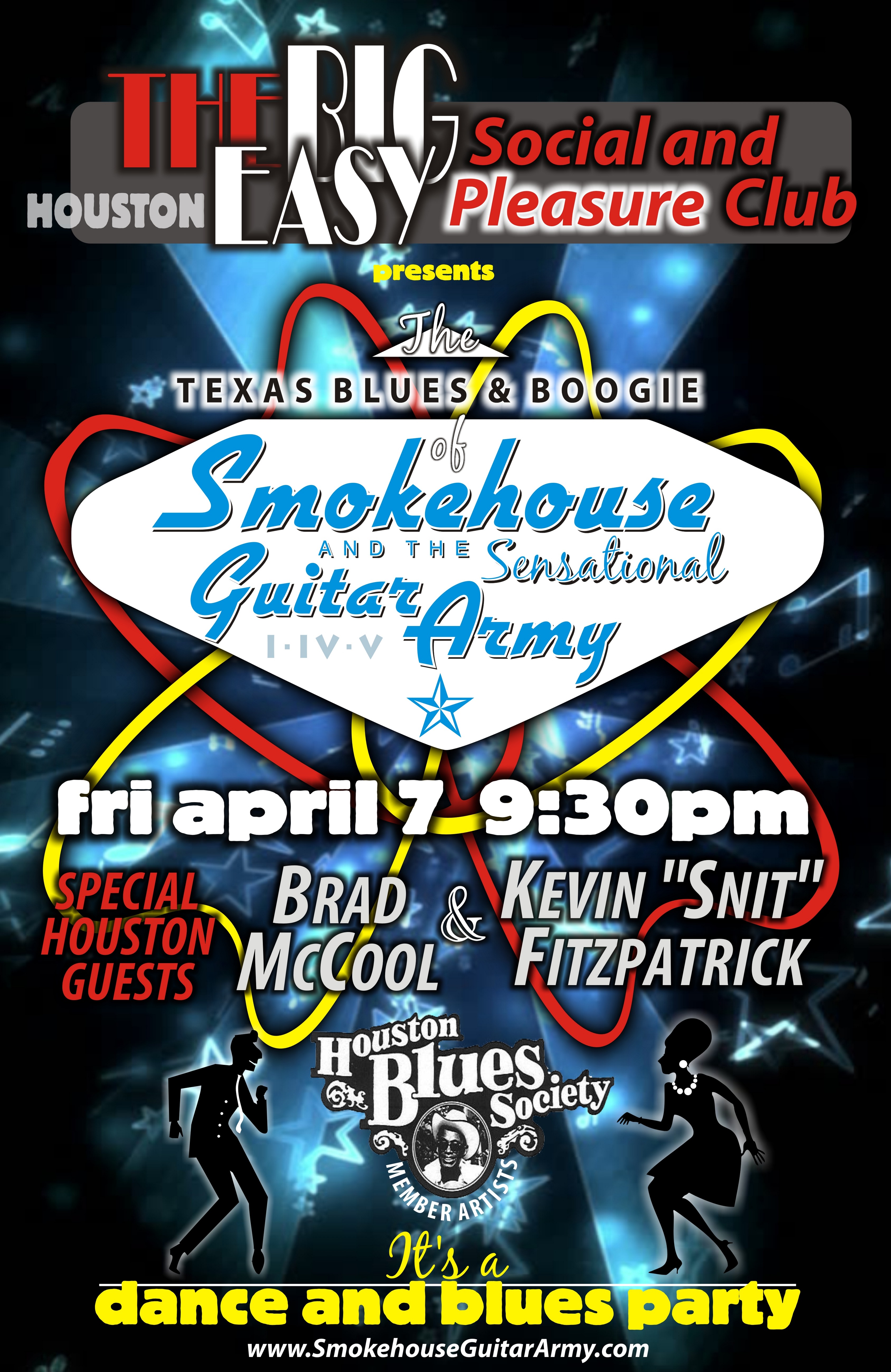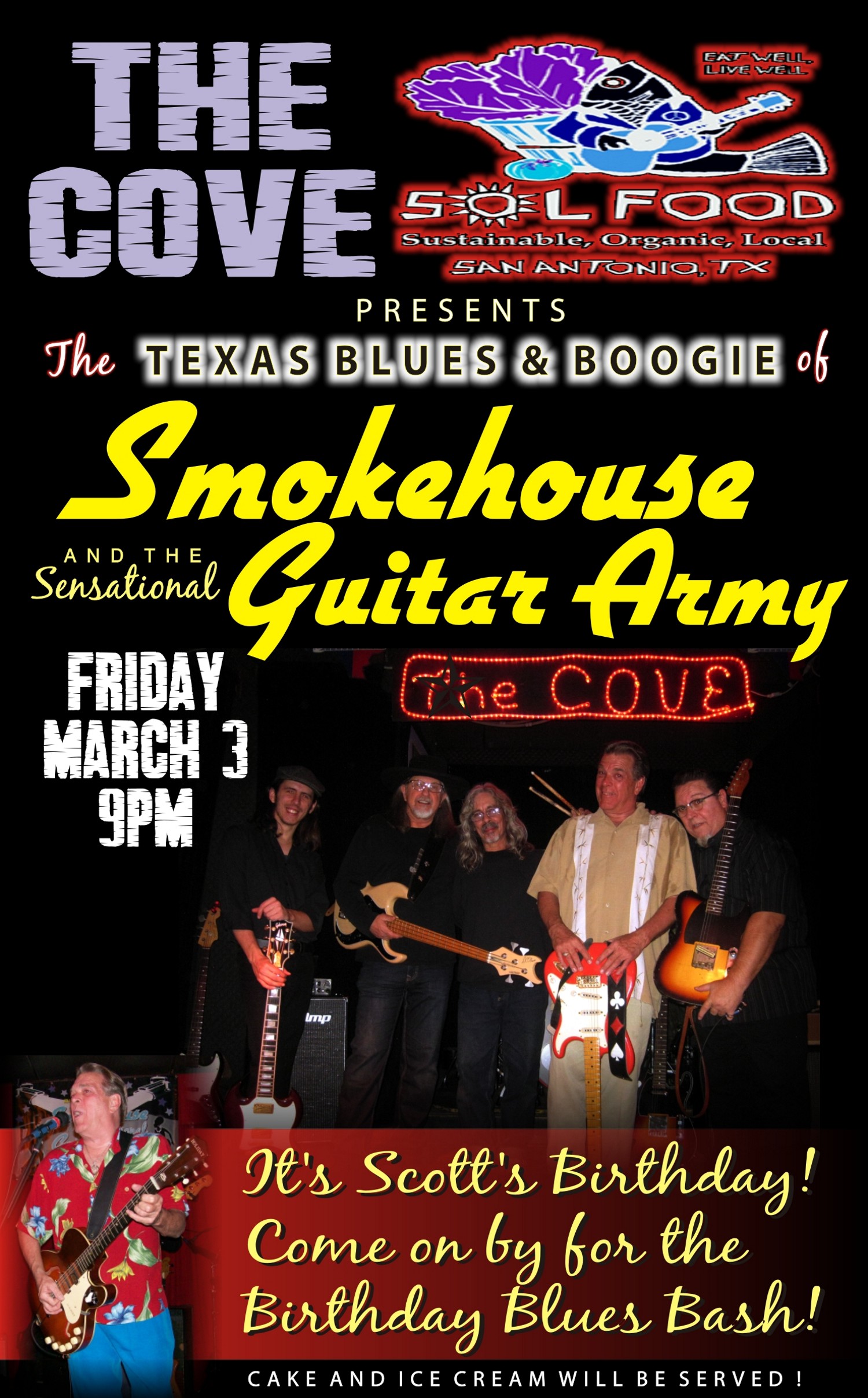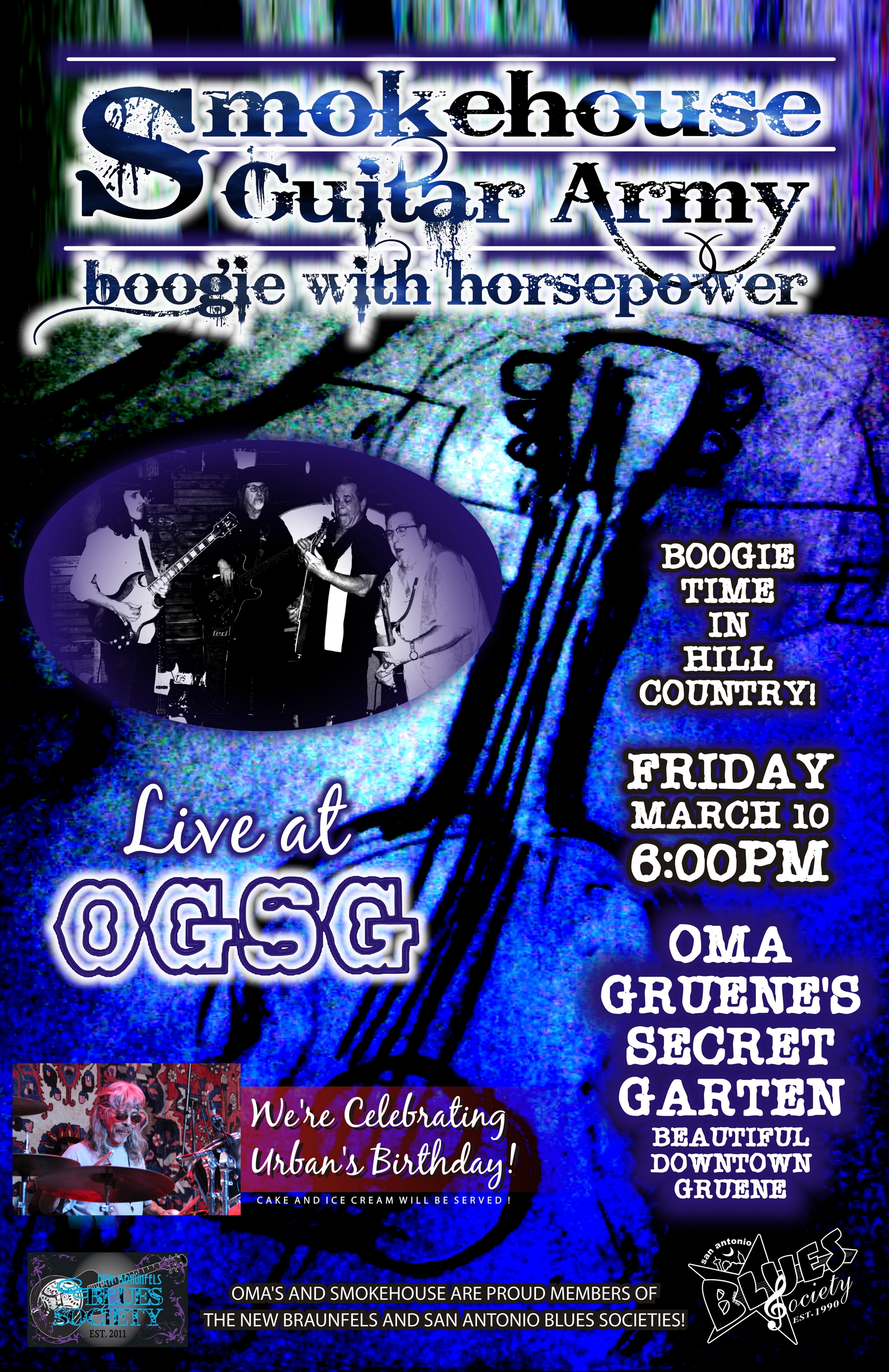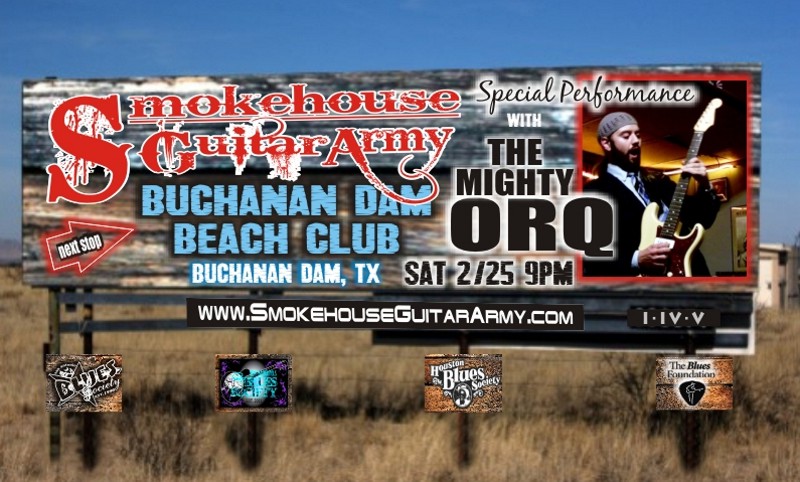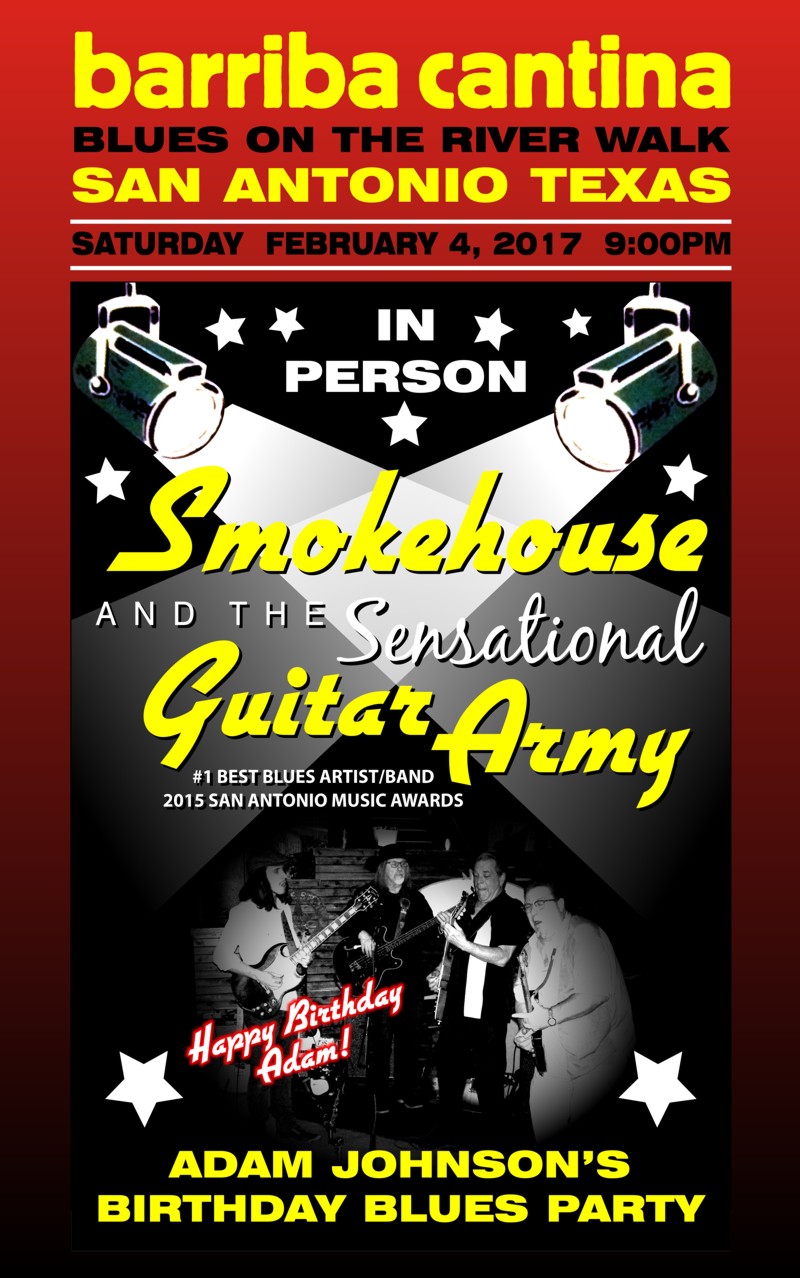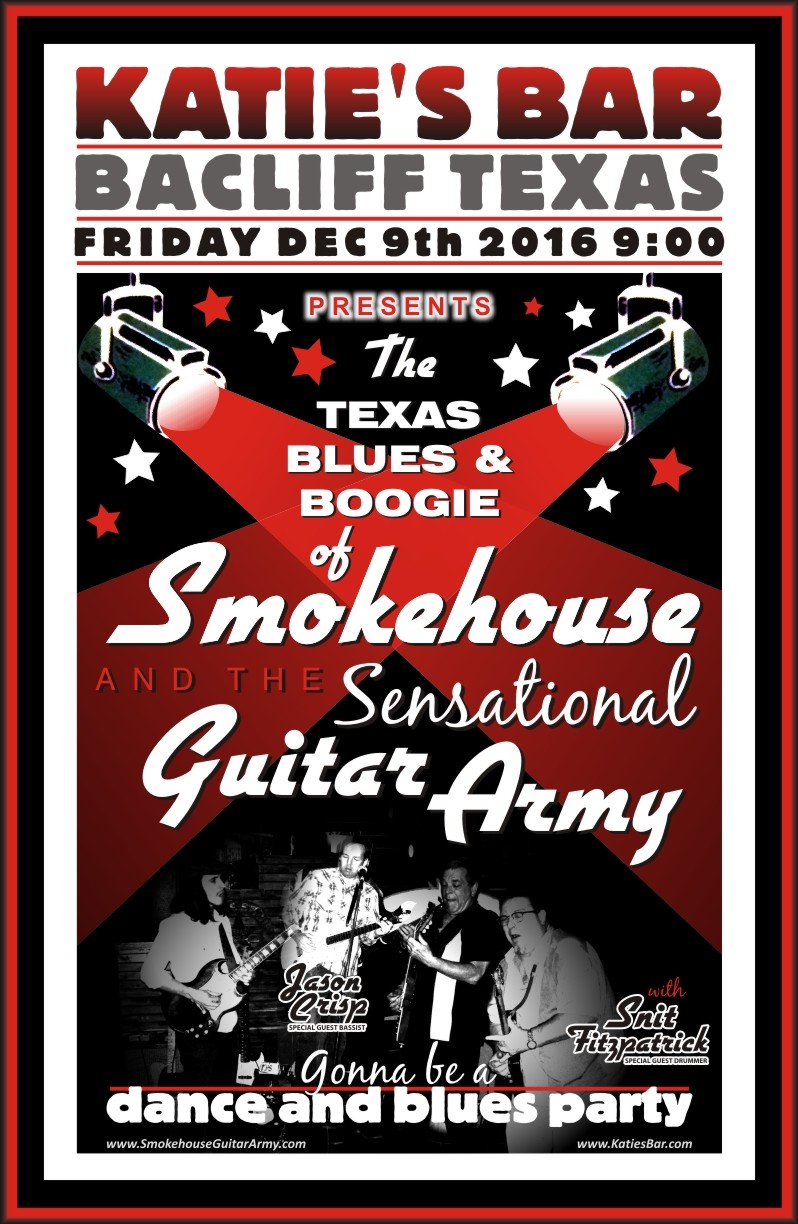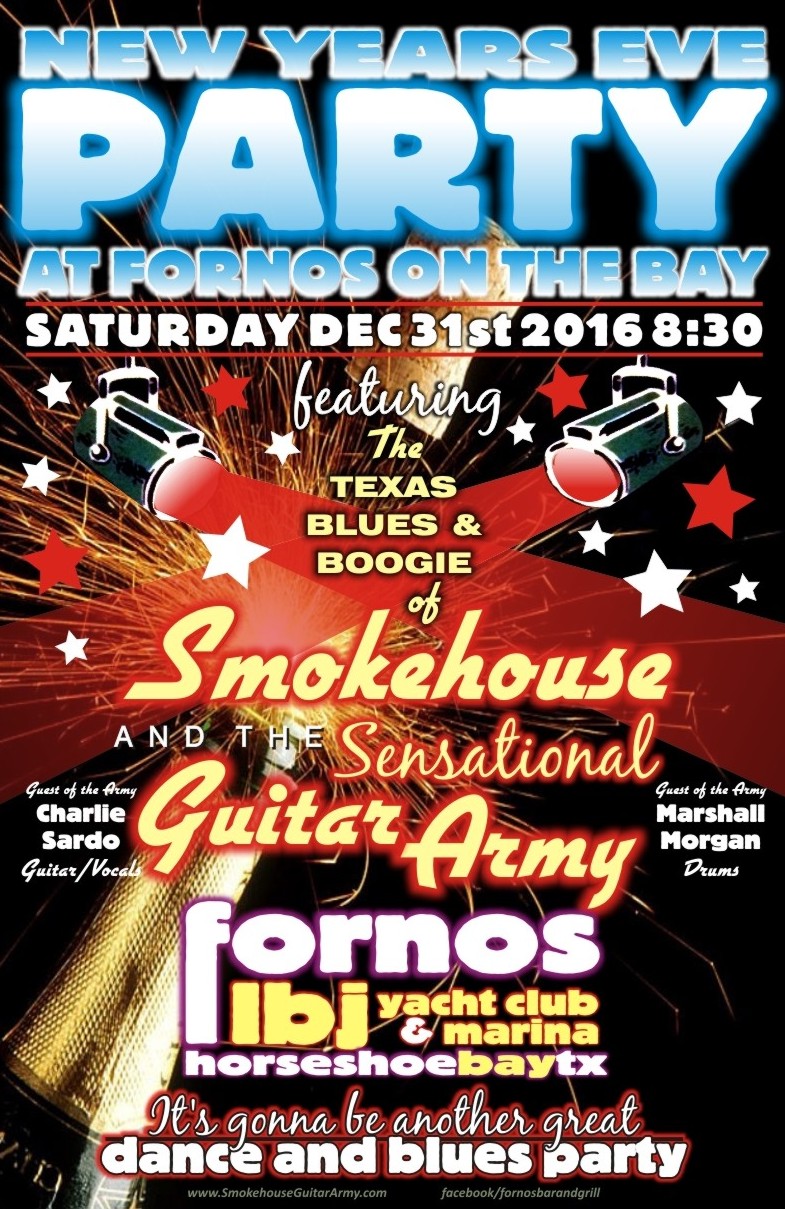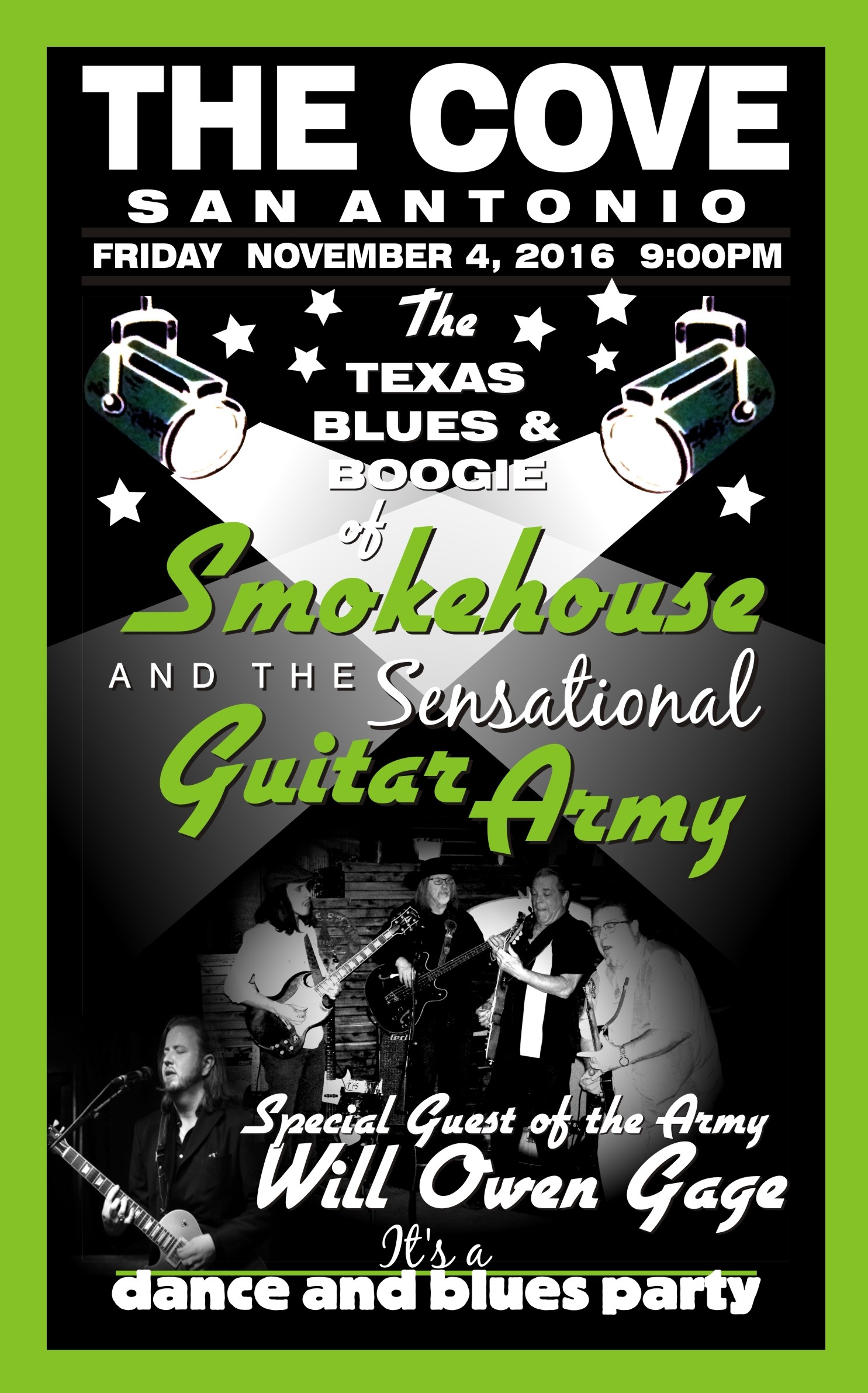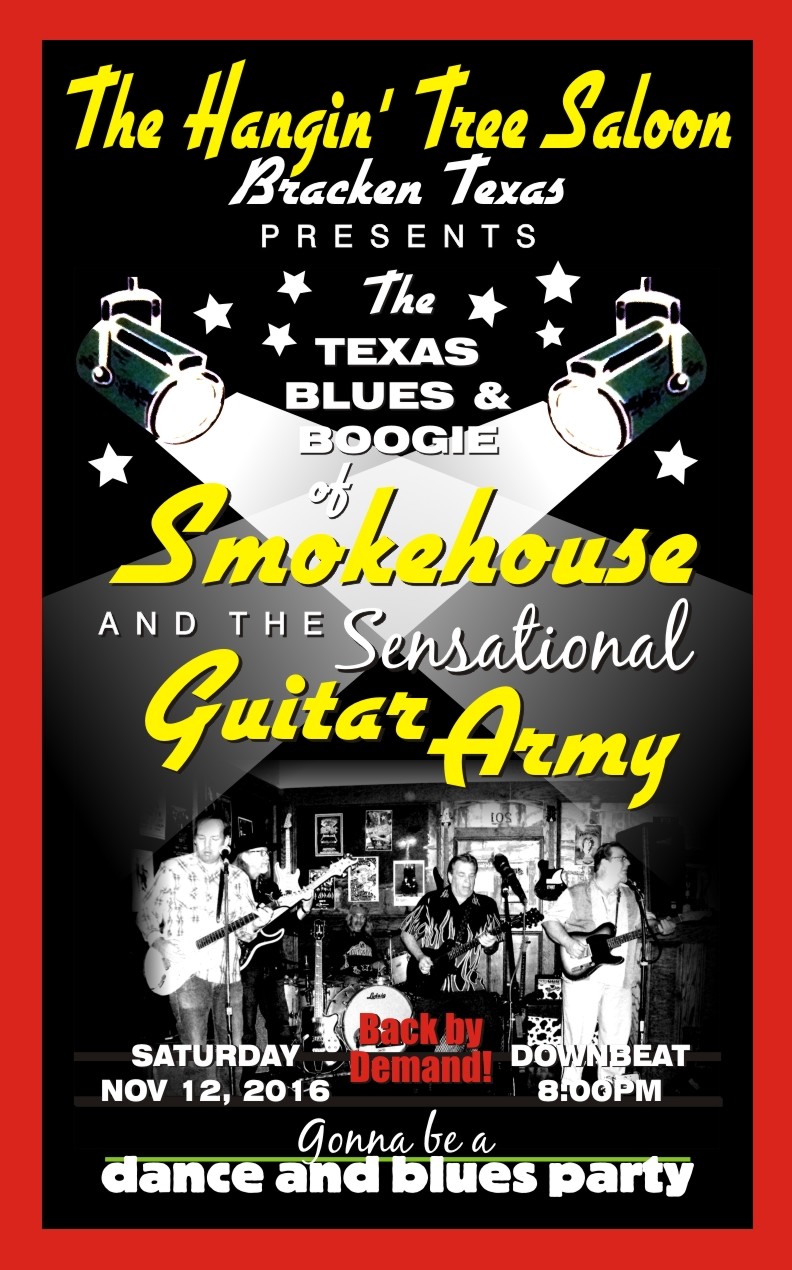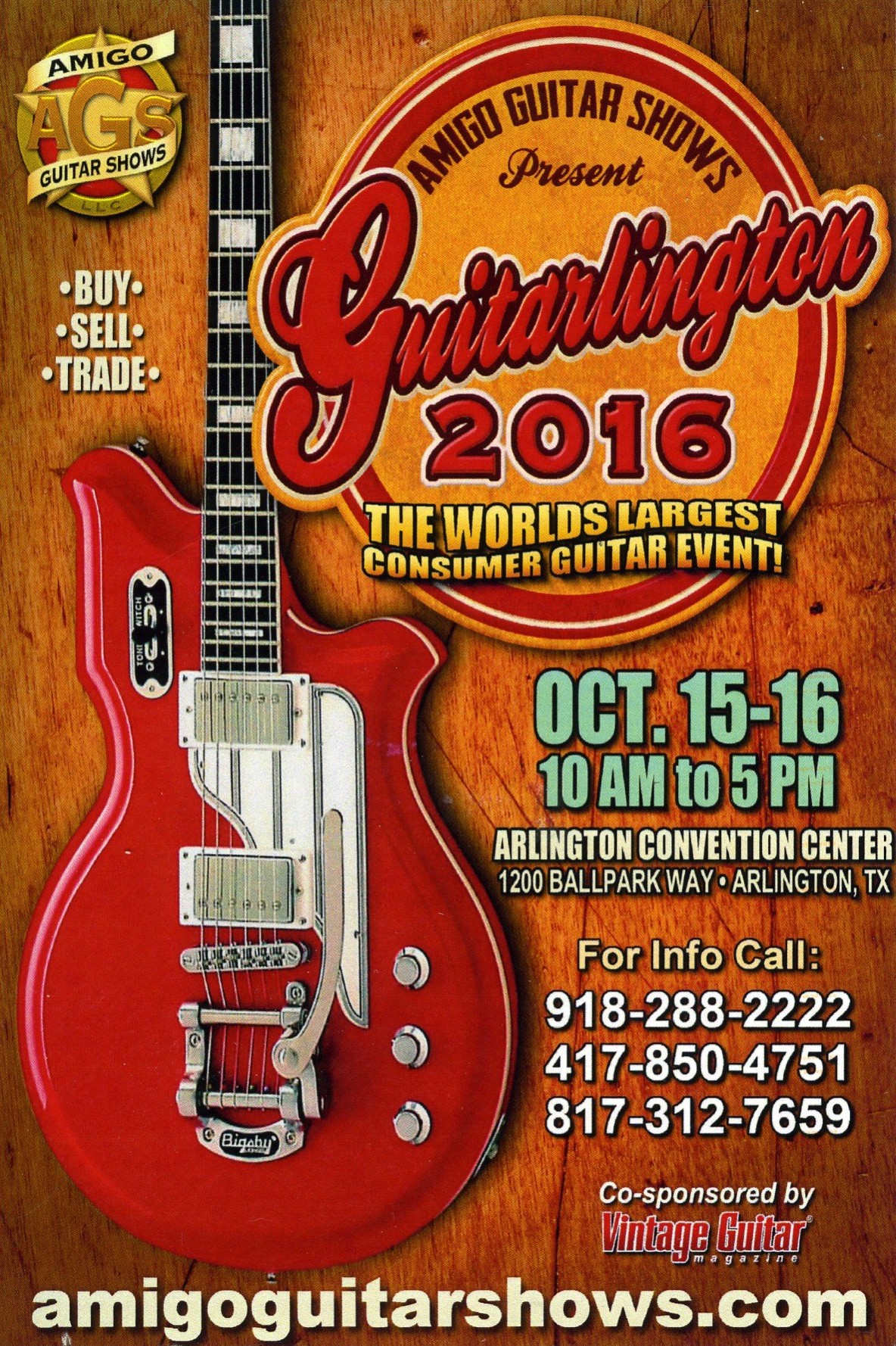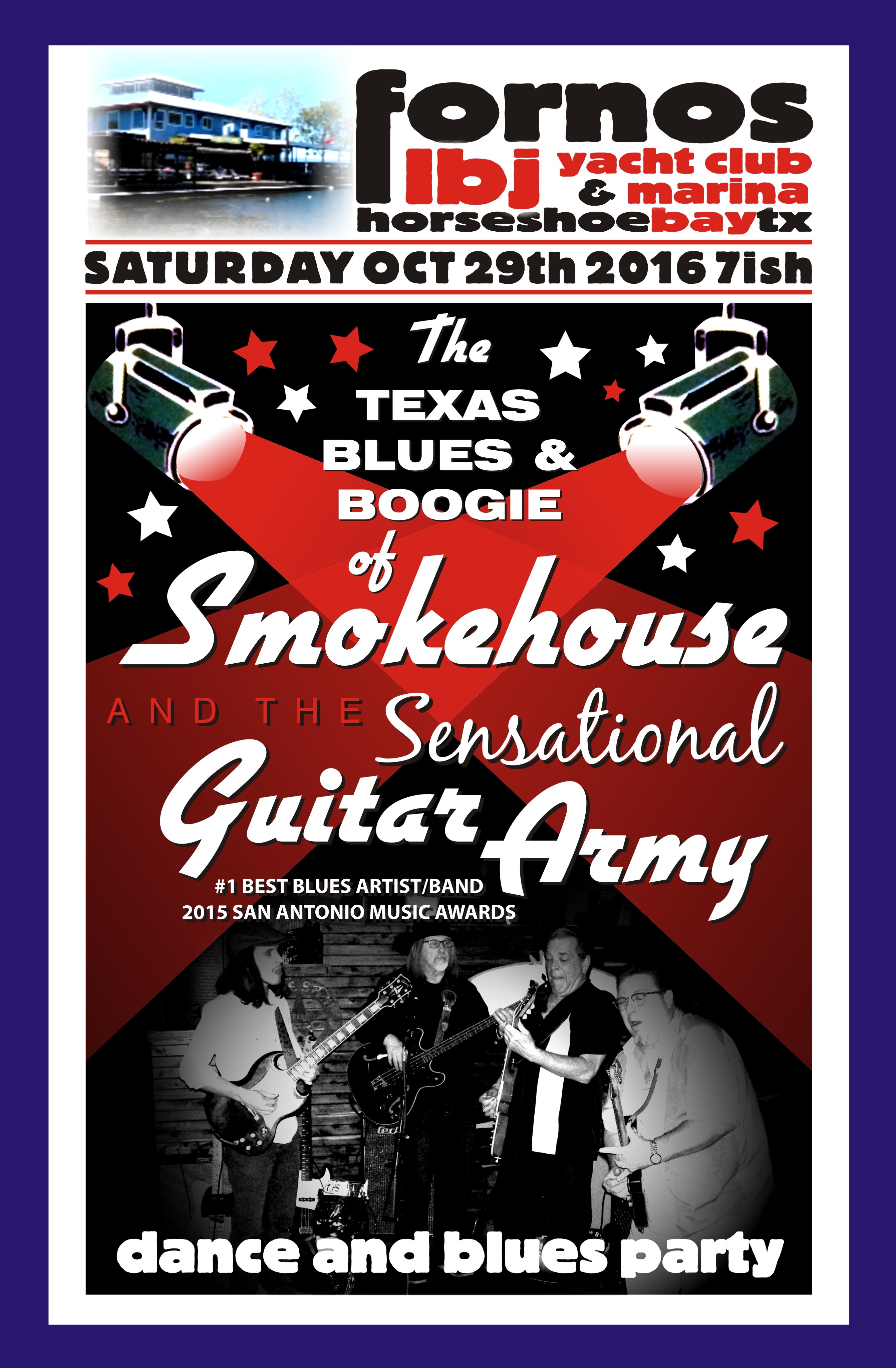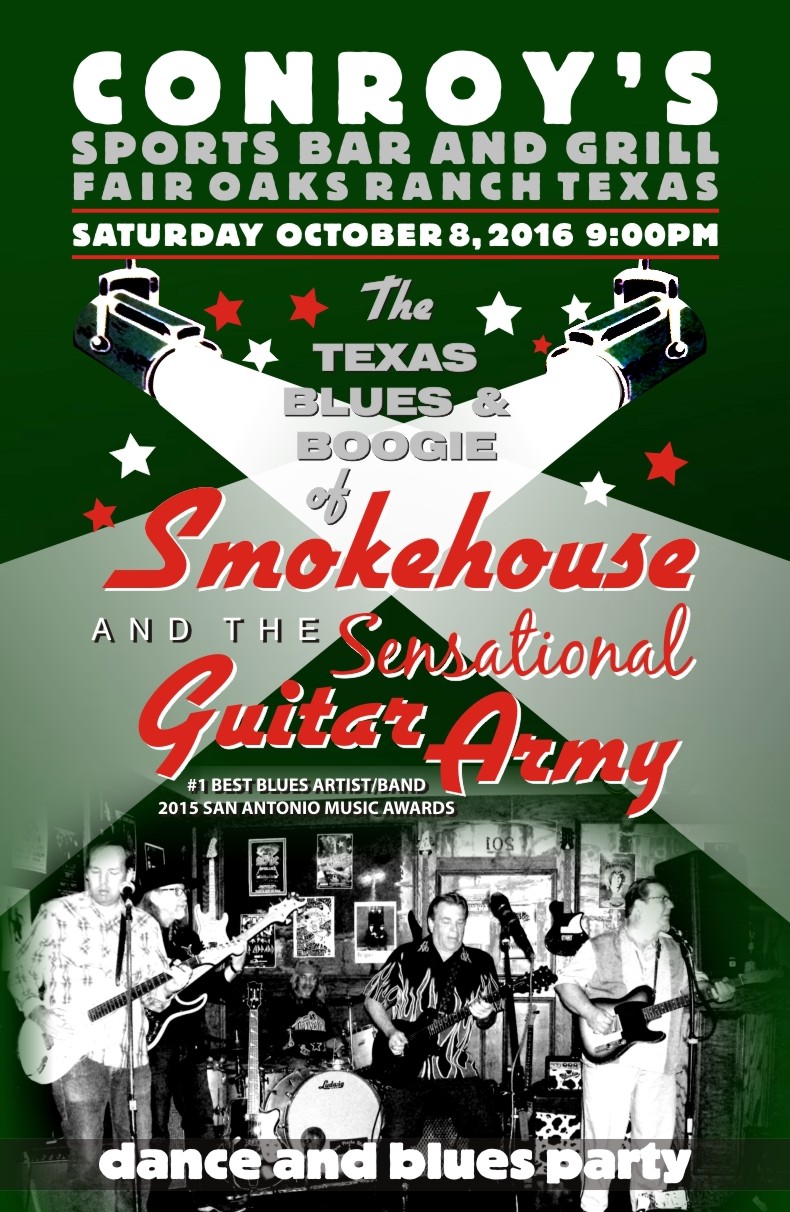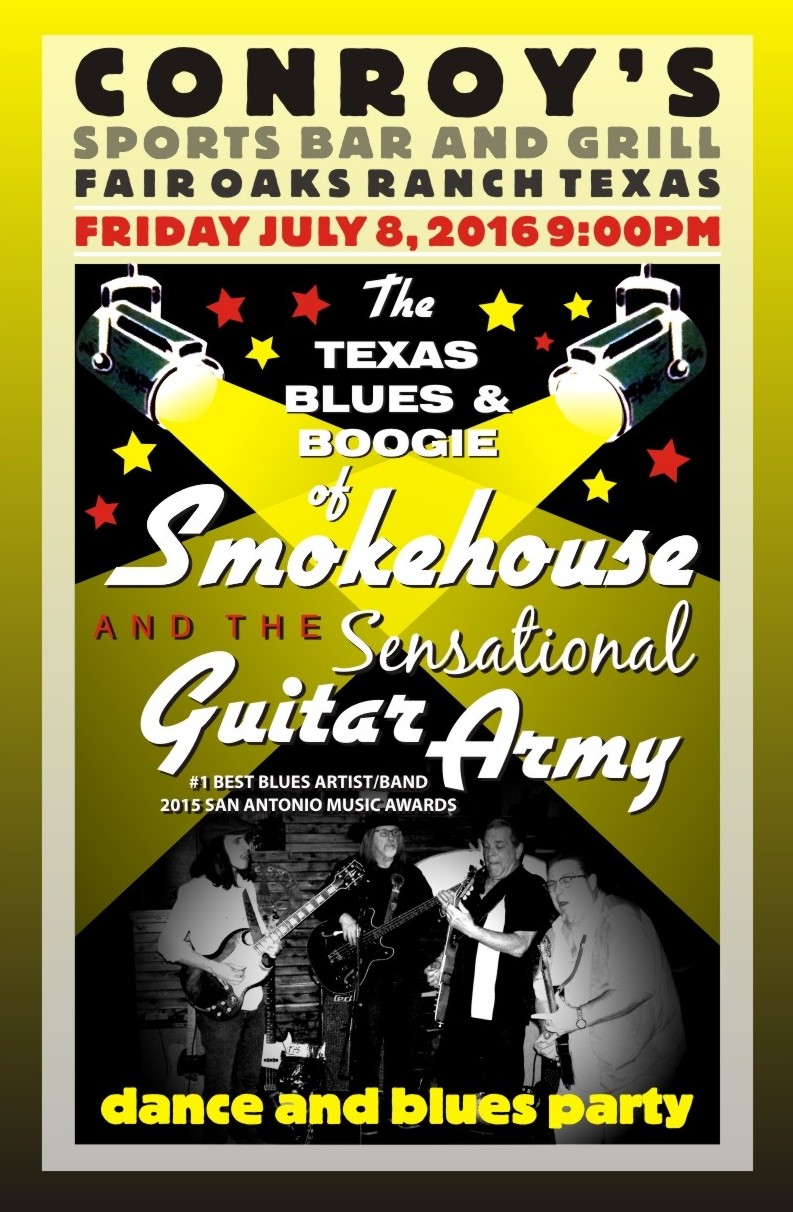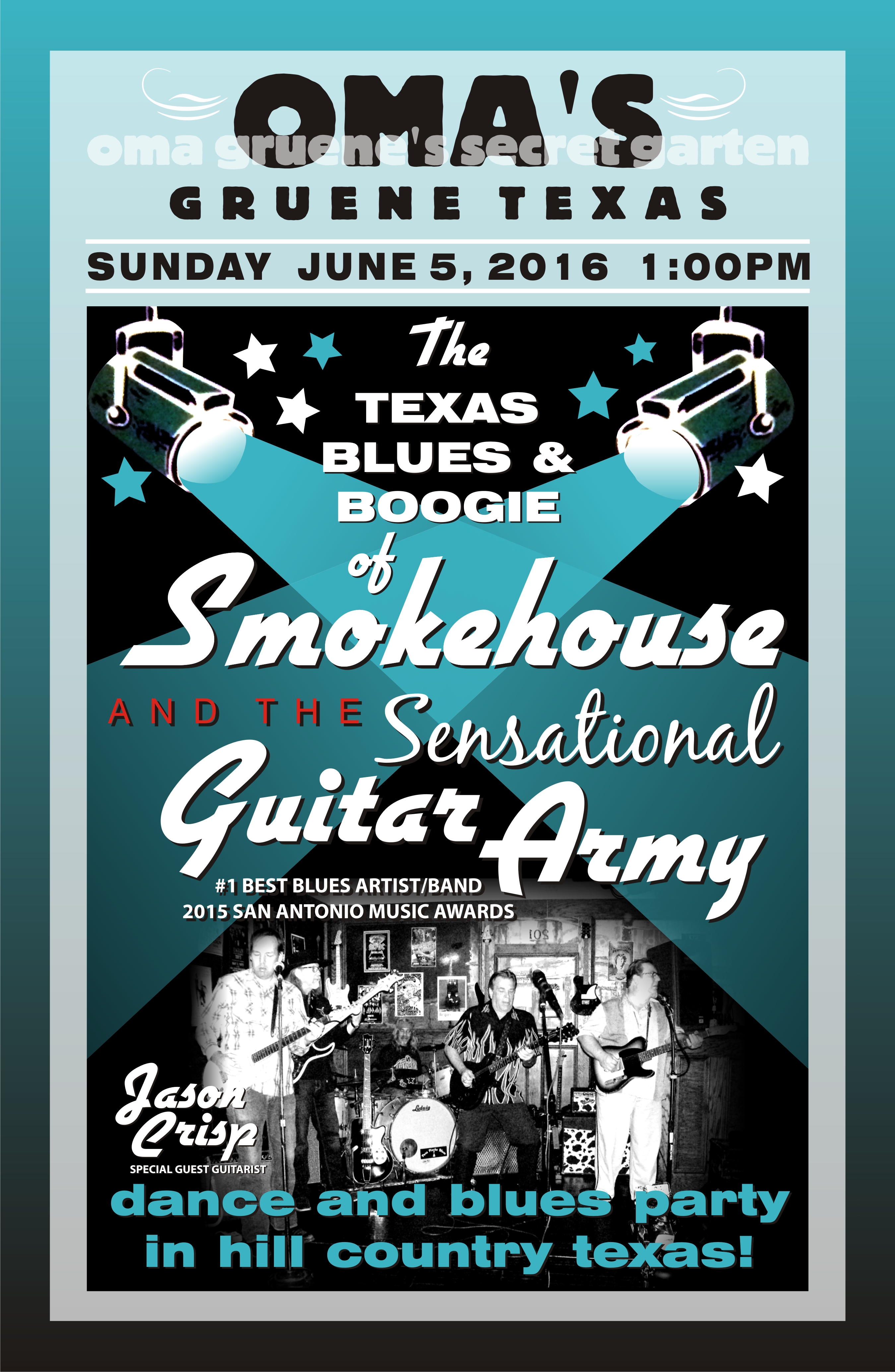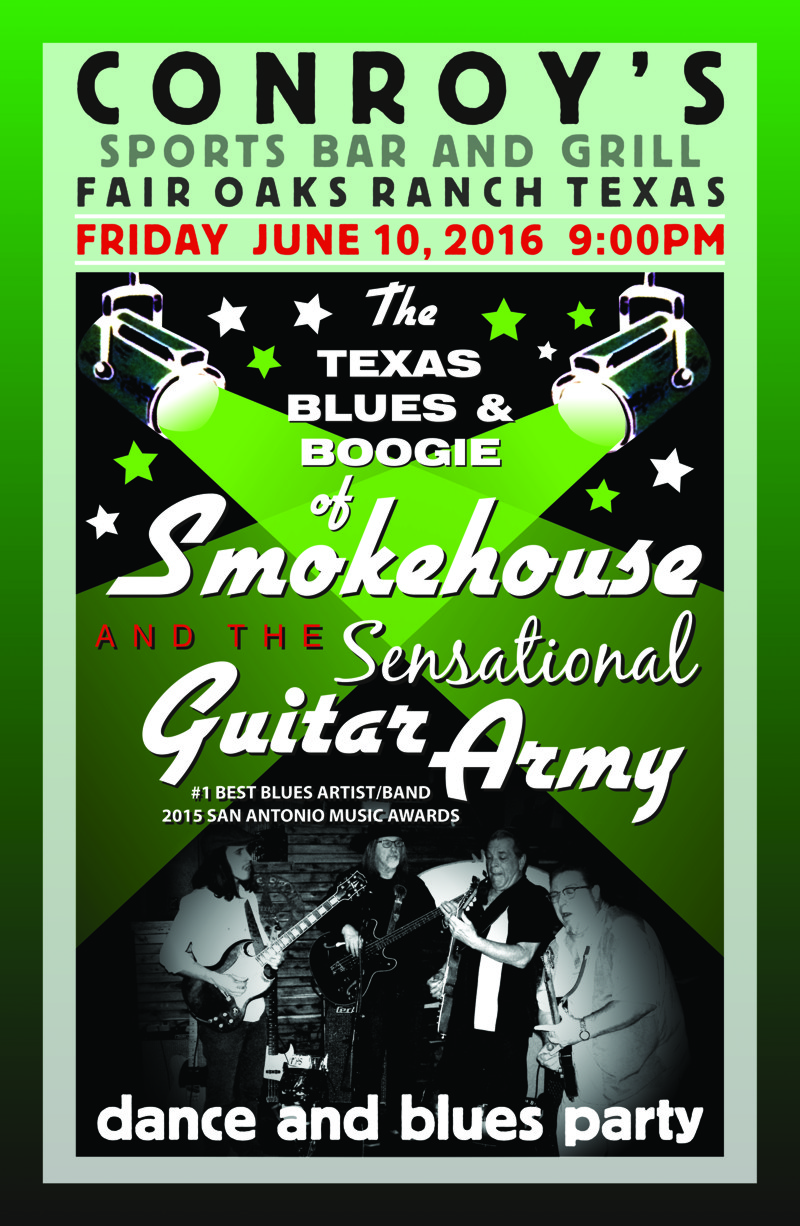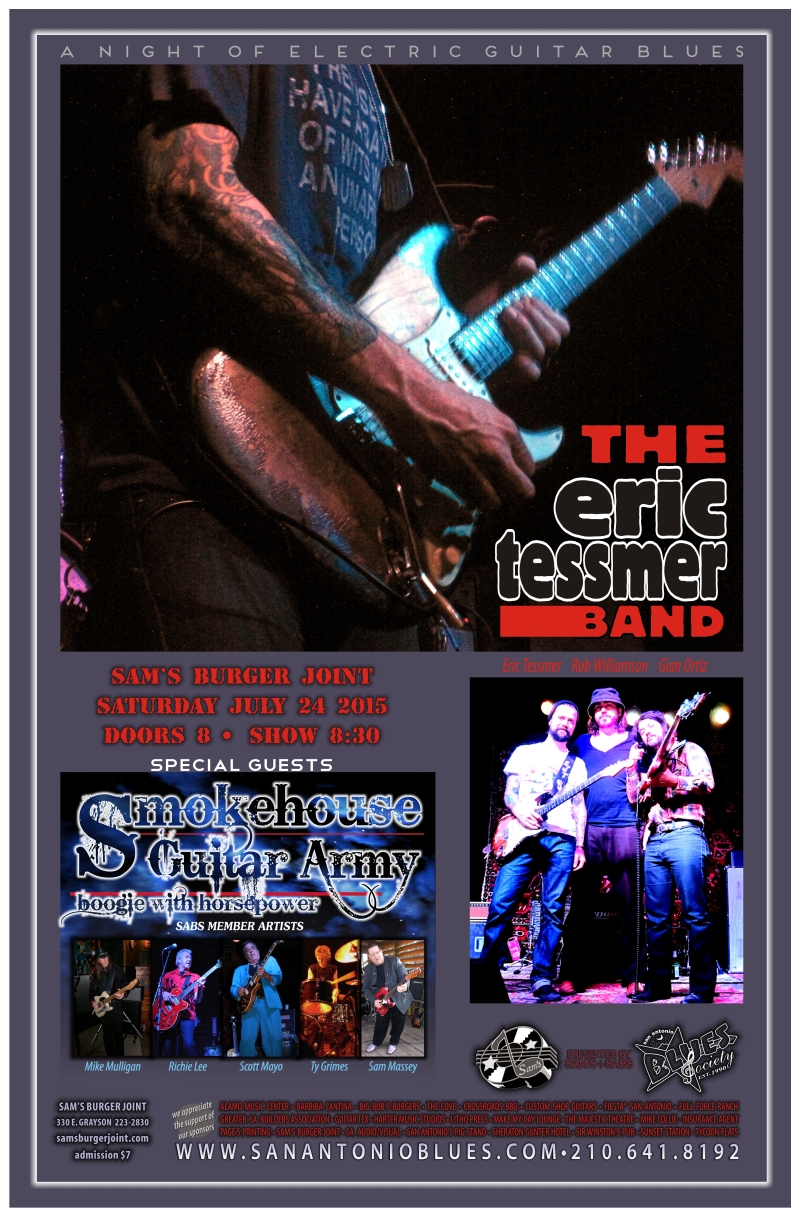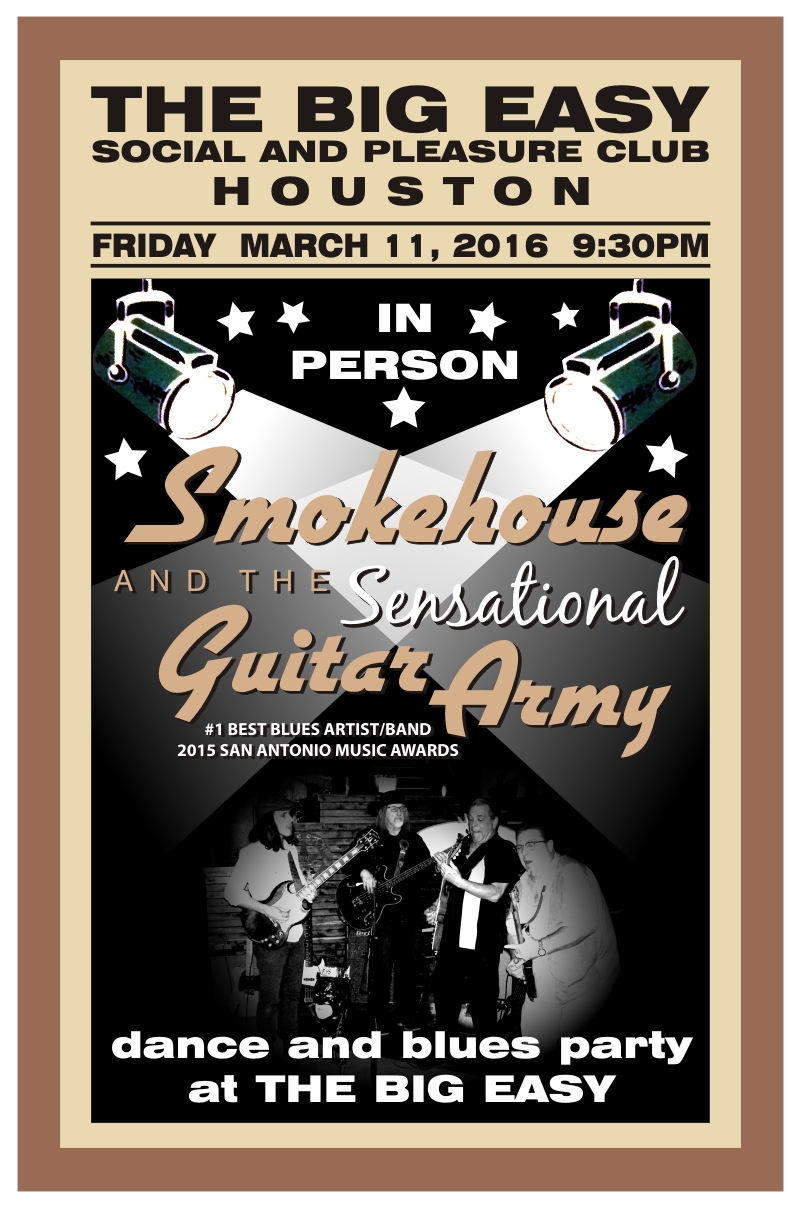 ---------------------------------------------------------------------------------------------------------------
A GREAT TIME IN HOUSTON AT
BRAD & EDEN McCOOL'S WEDDING CELEBRATION

| | | |
| --- | --- | --- |
| EDEN & BRAD | TAMARA • SAMMY • EDEN • BRAD • SCOTT | VICTOR • BRAD • SCOTT • SAMMY |
OLD FRIENDS
BRAD McCOOL AND
LUTHER RADA

BRAD McCOOL JOINS
LUTHER AND THE HEALERS
Best wishes to Brad and Eden from the band! Glad to have you both as
friends and part of the Smokehouse All-Stars!